Type of Dialogue
Independent
Convened by
Carla Caballeros, Red de Champions
Language of Dialogue Event
Español
Geographical focus
Guatemala
Format
Online
Please review the details below for registration information if available or contact the Convenor if you would like to attend.
Description
CCIE con el apoyo de FAO, IICA, OIRSA, CAC y CENPROMYPE con el objeto de visibilizar el proceso de la Cumbre, así como intercambiar información sobre las acciones que las diferentes instituciones, llevaremos a cabo el diálogo "Retos de la Inocuidad de Alimentos para la Producción Sostenible".
Con el objeto de impulsar una participación efectiva y oportuna de la región centroamericana en el proceso de preparación de la Cumbre sobre Sistemas Alimentarios , prevista a realizarse en septiembre de 2021,
La Vía de Acción 1 Garantiza el acceso a alimentos sanos y nutritivos para todos. Trabaja para poner fin al hambre y a todas las formas de malnutrición y reducir la incidencia de las enfermedades no transmisibles, y posibilitará que todas las personas estén alimentadas y sanas. Este objetivo requiere que todas las personas tengan acceso en todo momento a cantidades suficientes de productos alimenticios asequibles y aptos para el consumo. Alcanzar este objetivo supone aumentar la disponibilidad de alimentos nutritivos, lograr que los alimentos sean más asequibles y reducir las inequidades en el acceso a los mismos.
Acknowledgement
FAO, IICA, CENPROMYPE, OIRSA, CAC.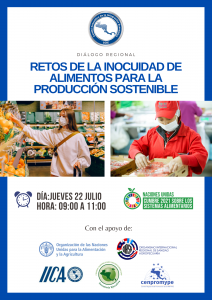 Image credit: Cámara del Agro de Guatemala