Official Dialogue Feedback to the United Nations 2021 Food Systems Summit
Last updated:
Download PDF
Type of Dialogue
Independent
Convened by
IISLA Ventures
Language of Dialogue Event
English
Geographical focus
Philippines
Format
Online
Please review the details below for registration information if available or contact the Convenor if you would like to attend.
Description
Achieving food security in the Philippines is beset with various politico-economic and socio-ecological constraints. Central to the issue is securing the income of rural communities, especially smallholder farmers and micro, small, and medium enterprises (MSMEs). While there has been an increase in the number of individuals investing in agriculture and food processing, small-scale food producers lack the capacity to access the needed capital to expand their businesses due to weak entrepreneurial skills. This is exacerbated by structural problems that disconnect producers with consumers in a lengthened value chain, as well as the urgent need to regenerate the environment and increase resilience to climate change. Unless systemic changes are made, the aim of having a stable supply of nutritious food – that is affordable to the millions of Filipinos still living in poverty – will be difficult to achieve.
This Independent Dialogue will build on the studies and forums (expert panel discussions) conducted by IISLA in 2020 and 2021, particularly in four (4) key areas: (1) food production; (2) food processing; (3) food distribution; and (4) rural financing. Specifically, it aims to achieve the following:
Discuss the highlights of the analyses conducted by IISLA on the Philippine food system based on data and insights gathered in the last few months, focusing on the challenges and the proposed systemic solutions in achieving equitable livelihood vis-a-vis the four (4) key areas identified.
Gain comments and insights from food system stakeholders in government, business, and civil society on the challenges and solutions raised, based on actual experiences on the ground.
Foster collaboration among local food system actors to avoid duplication of/and/or conflicting interventions and to foster synergy towards greater felt impact of initiatives.
The Independent Dialogue will ensure that the recommendations endorsed to the United Nations Food System Summit 2021 are grounded on the realities faced by ordinary citizens. It will also lay the foundations for the co-creation of a unified strategy for advancing equitable livelihood in the food system and achieving sustainable and inclusive food security in the Philippines.
*Registration for this dialogue is now closed*
If you would still like to register and participate in this dialogue, please email [email protected] with your details.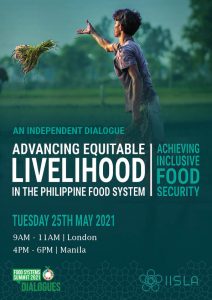 Image credit: IISLA Ventures