Type of Dialogue
Independent
Convened by
This H2O Catalyst event is produced by Circle of Blue, the nonpartisan news organization that reports on water issues globally
Language of Dialogue Event
English
City
Traverse City, MI, USA
Geographical focus
United States of America
Format
Online
Please review the details below for registration information if available or contact the Convenor if you would like to attend.
Description
Temperatures are soaring, rivers and reservoirs are dropping, and farmers are struggling to save their crops. Get the latest news.
Hear what steps community leaders and experts say we need to take to build a more water resilient future in the face of climate change.
Join award-winning journalists from Circle of Blue and leading experts from the Pacific Institute, Vector Center, and others on the front lines for a first-hand, live briefing and public Q&A about the drought in the American West. 
It's called 
the
everything disaster
. 
It develops in stages, a story that builds upon itself. A few cloudless days. A rain-free week or season. Disappearing reservoirs and drying streams, rivers, and forests.
Now fields are fallow, fish are dying, and wells are running dry.
Drought is upon us — with major implications for human health, biodiversity, agriculture, food security, supply chains, cities, land use, and the most very basic of human rights.
This is a story now only worsened by a climate emergency, which has brought higher temperatures, more extreme conditions, and heightened risks.
Fires, droughts, power outages, competition over water, and ecosystem collapse all result. Western droughts are becoming longer, more intense, and more frequent.
But as water scarcity sweeps the West, many see this as the imperative moment for rapid innovation in agriculture, technology, nature-based systems, and policy to manage dwindling supplies.
Acknowledgement
Pacific Institute, Vector Center, and APCO Worldwide.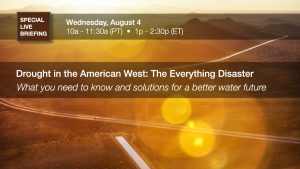 Image credit: Circle of Blue