Official Dialogue Feedback to the United Nations 2021 Food Systems Summit
Last updated:
Download PDF
Type of Dialogue
Member State
Convened by
SE Sra. Francisca ENEME EFUA, Ministra de Agricultura, Ganadería, Bosques y Medio Ambiente
Language of Dialogue Event
Español
City
Unnamed Road, Malabo, Equatorial Guinea
Geographical focus
Equatorial Guinea
Format
In-person
Please review the details below for registration information if available or contact the Convenor if you would like to attend.
Curator
Iltmo. Señor Gabriel-Martín Esono NDONG MICHA, Director General de Ganadería, Sanidad Animal y Control de Alimentos
Description
La pandemia de COVID-19 ha puesto de manifiesto las fragilidades y desigualdades de los sistemas alimentarios: ha acentuado la necesidad urgente de garantizar que los sistemas alimentarios sean más sostenibles, inclusivos y resilientes.
Por tal razón el gobierno de Guinea Ecuatorial liderado por el Ministerio de Agricultura, Ganadería, Bosques y Medio Ambiente y otros ministerios tales como el de Asuntos Exteriores y Cooperación, Pesca y Recursos Hídricos, Sanidad y Bienestar Social, etc.sector privado, organizaciones de productores, actores del sistema alimentario Nacional y con apoyo técnico de las agencias del Sistema de Naciones Unidas, ha convocado este Dialogo Nacional en el cual se debatirán tres vías de acción según sigue:
1- Impulso a la producción de alimentos
2- Acceso a alimentos nutritivos y seguros para todos
3- Promoción equitativa del bienestar  
Acknowledgement
Oficina de Coordinación del Sistema de las Naciones Unidas, FAO, PNUD y UNICEF.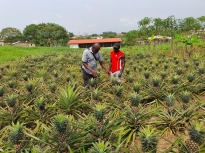 Image credit: FAO Guinea Ecuatorial, Walter Torres