Type of Dialogue
Independent
Convened by
Dra. Mariana Duprat - UNIVILLE
Language of Dialogue Event
Portugues
City
Joinville - Pirabeiraba, Joinville - State of Santa Catarina, Brazil
Format
Online
Please review the details below for registration information if available or contact the Convenor if you would like to attend.
Curator
Dra. Anitta Mattes - CERDI; Dr. Felipe Borborema -UNIVILLE; Dra. Luana Gusso - UNIVILLE; Dra. Patricia Areas - UNIVILLE
Description
O grupo de pesquisa CNPQ PODE – Patrimônio, Direito, Desenvolvimento e Inovação, o Curso de Gastronomia e o Programa de Pós Graduação em Patrimônio Cultural e Sociedade da Univille, convidam para um Diálogo Independente da Cúpula das Nações Unidas sobre Sistemas intitulado Acesso universal aos alimentos: reconhecendo a comida como um bem público.
Cerca de 10% da população mundial viveu em situação de insegurança alimentar em 2020 e para superar a fome, a desnutrição, a má alimentação, a falta de nutrientes e até mesmo a obesidade, é necessário não apenas garantir a disponibilidade de alimentos, mas também a qualidade desta oferta.
A cadeia produtiva de alimentos e a forma como pensamos a comida e definimos o que, e como esta será produzida, orienta sua qualidade nutricional, segurança, acessibilidade e sustentabilidade do sistema.
Como podemos contribuir para construir um sistema sustentável e resiliente?
Neste diálogo, iremos:
Ouvir da nossa comunidade quais são as soluções já encontradas para produzir alimentos culturalmente reconhecidos em uma cadeia sustentável;
Discutir as disparidades entre as necessidades dos consumidores e dos produtores; poder público e privado;
Identificar como podemos promover e adaptar modelos de colaboração em diferentes setores para certificar-se de que o alimento como bem cultural e bem público pode alcançar a mesa de todos;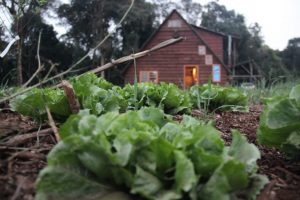 Image credit: Abimael de Jesus / MST, 2020 Assentamento Olívio Albani - Campo Erê / SC