Official Dialogue Feedback to the United Nations 2021 Food Systems Summit
Last updated:
Download PDF
Type of Dialogue
Member State
Convened by
Sr. Renato Alvardo Ribera, Ministro de Agricultura y Ganadería
Language of Dialogue Event
Español
City
La Salle, 167, San José, Costa Rica
Geographical focus
Costa Rica
Format
Online
Please review the details below for registration information if available or contact the Convenor if you would like to attend.
Curator
Sr. Roberto Azofeifa Rodríguez, Ministerio de Agricultura y Ganadería
Description
La innovación y las tecnologías digitales pueden acelerar la transformación de los sistemas agroalimentarios a sistemas más eficaces, productivos, sostenibles, inclusivos y resilientes; abriendo nuevas y mejores oportunidades para agregar valor y generar empleo e ingresos, como lo evidencian los impactos de la digitalización y de la automatización de los procesos de producción, el comercio electrónico y la diversificación de mercados, entre otros.
Particularmente, pese a los esfuerzos nacionales, el desarrollo de procesos de innovación y la digitalización en la agricultura primaria y en la agroindustria, así como en otros medios de vida en los territorios rurales, continúa siendo un reto país, principalmente para la agricultura familiar y comerciantes del sector agroalimentario en los territorios rurales.
La Presidencia de la República, el Ministerio de Agricultura y Ganadería, y el Ministerio de Ciencia, Tecnología y Telecomunicaciones, entre otros actores, impulsan la creación de un entorno que fomente la innovación y el uso de tecnologías, en pro del mejoramiento de la competitividad y de la inclusión productiva, principalmente de las mujeres y la juventud.
Este cuarto diálogo nacional, promueve intercambios entre los diferentes actores que impulsan y usan las innovaciones y la transformación digital, con el fin de identificar acciones que permitan que los beneficios del uso de las innovaciones y de la digitalización lleguen las personas productoras del sector agropecuario y a su agro cadena, principalmente a la agricultura familiar y a quienes viven en los territorios rurales.  Para esto, el diálogo brindará un panorama sobre los factores que favorecen o limitan en una agenda para la innovación y transformación digital en la agricultura.
Acknowledgement
Agradecimiento especial al grupo de trabajo a cargo de la planificación y conducción del Diálogo en representación del Tecnológico de Costa Rica, Ministerio de Ambiente, Ministerio de Salud, Ministerio de Relaciones Exteriores, Ministerio de Agricultura y Representación de FAO-CR.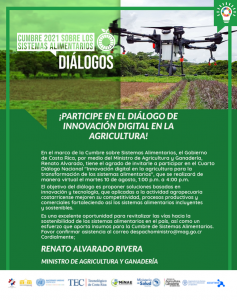 Image credit: Ministerio de Agricultura y Ganadería