Type of Dialogue
Independent
Convened by
SEBASTIEN Rood-Nedlon, ASSOCIATION DES GEOGRAPHES AMENAGEURS POUR UNE NOUVELLE HAITI (AGANH)
Language of Dialogue Event
French , English and Haiti Creole
Format
Online
Please review the details below for registration information if available or contact the Convenor if you would like to attend.
Curator
MARTIN Frandlin,ASSOCIATION DES GEOGRAPHES AMENAGEURS POUR UNE NOUVELLE HAITI (AGANH)
Description
Webinar
20 février 2021
Depuis plusieurs décennies, Haïti devient de plus en plus fragile face à des différentes crises liées à l'économie, le social, la politique, la santé et des catastrophes naturelles accentués par le réchauffement climatique. Ces crises répétitives ont graduellement détérioré la sécurité alimentaire du pays. En 2020, la crise liée au COVID-19 a contribué à aggraver l'insécurité alimentaire en Haïti entrainant 42% (4,1 millions) de la population en situation de crise ou urgence alimentaire. Cité par l'agence française de développement, en décembre 2015, suite aux sécheresses, le taux d'insécurité alimentaire atteignait 47 %, incluant 10 % de la population en état d'insécurité alimentaire sévère (CNSA, 2016). La principale origine de l'insécurité alimentaire est la pauvreté des ménages. Le secteur agricole, qui pourvoit 40 % du revenu dans les zones rurales, est en déclin et ne génère que 25 % du PIB. (AFD, 2013).
L'année 2021 est une année très importante dans le sens que les dialogues organisés dans le cadre du Sommet sur les systèmes alimentaires sont ouverts. Pour répéter Mme Agnes Kalibata, c'est une formidable occasion de donner la parole à toutes les personnes qui ont à cœur de rendre les systèmes alimentaires plus équitables et plus durables. Cette dernière est créée dans le but d'aider les parties prenantes à mieux apprécier les enjeux complexes qui ont une incidence sur l'avenir des systèmes alimentaires, à faire des choix avisés à cet égard et à accélérer la réalisation des objectifs de développement durable.
Vu la situation alimentaire mondiale et celle d'Haïti, l'Association des Géographes Aménageurs pour une Nouvelle Haïti, organise pour la première fois un webinaire sur la sécurité alimentaire le 20 février 2021, lequel réunira des jeunes leaders, journalistes, professionnels et étudiants dans le domaine en vue de faire entendre leurs voix dans le sommet.
Comment conjuguer au présent la gestion de l'environnement, la production agricole, Eau, Migration et la résilience de la population avec un accent particulier sur l'intégration des jeunes dans le contexte de la crise de l'insécurité alimentaire mondiale, telle est la question que les organisateurs se posent aujourd'hui et que les intervenants tenteront de répondre à travers de ce Webinaire.
Lieu : Application Zoom
Renforcer la capacité des jeunes dans la lutte contre l'insécurité alimentaire et faire entendre leur voix dans les prises de décision les concernant au niveau national et international.
OBJECTIFS SPÉCIFIQUES
Faciliter des débats sur les différents sujets en lien à l'insécurité alimentaire ;
Partager les bonnes pratiques liées à la production Agricole ;
Renforcement des capacités (techniques, gestion, leadership) des jeunes à prendre des décisions qui contribuent au renforcement de la sécurité alimentaire.
RÉSULTATS ATTENDUS
100 jeunes leaders, journalistes et étudiants seront formés et informés sur le concept de l'insécurité alimentaire et de la sécurité alimentaire ;
Ils seront conscients de leurs contributions à maintenir un monde meilleur et durable sur le plan alimentaire.
1 manifeste sera élaboré et soumis au Ministère de l'Agriculture ;
1 vidéo sera diffusée via les réseaux sociaux pour faire le Plaidoyer pour l'implication des jeunes dans la lutte contre l'Insécurité Alimentaire.
Le Webinaire touchera le public suivant : Jeunes leaders, journalistes, jeunes professionnels et étudiants issus des dix (10) départements géographiques d'Haïti et ailleurs.
Pauvreté et insécurité Alimentaire | insécurité alimentaire & Agriculture | Gestion de l'Eau et Agriculture | Participation des Jeunes et insécurité| Exploitation des ressources naturelles| Crise alimentaire
Préparation 
Il s'agit d'impliquer les cadres des différentes structures de jeunes tant sur les objectifs que le contenu. Plusieurs rencontres virtuelles de validation du document global de réflexion sur l'identification des thématiques et certains intervenants seront organisés. Ces rencontres devront faciliter l'adoption et la finalisation d'un calendrier et l'agenda réaliste de la conférence.
Planification logistique de la conférence
Détermination de la liste des invités y compris la presse
Lancement du webinaire sur les réseaux sociaux (Facebook, Twitter, Instagram)
Détermination complète d'une liste exhaustive de panélistes présentateurs et d'animateurs et modérateurs.
Planification de la logistique (Communication & Visibilité ; maillots ; entrevue dans des radios)
Réunion virtuelle de clarification avec des présentateurs/panélistes sur le format des présentations et les attentes de la coordination – fixer une date pour la collecte des textes et des power point.
Élaboration de l'Agenda
Élaboration d'un draft pour le manifeste.
Réalisations et publication d'un vidéo.
Acknowledgement
Ntiokam Divine , CSAYN and UN Food Systems Summit Champion and Simon Leiva , Coordinator , Global Alliance on CSA.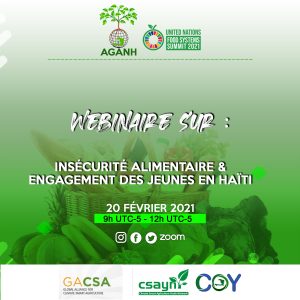 Image credit: l'Association des Géographes Aménageurs pour une Nouvelle Haïti