Official Dialogue Feedback to the United Nations 2021 Food Systems Summit
Last updated:
Download PDF
Type of Dialogue
Member State
Convened by
SE Sra. Francisca ENEME EFUA, Ministra de Agricultura, Ganadería, Bosques y Medio Ambiente
Language of Dialogue Event
Español
City
Bata, Guinea Ecuatorial
Geographical focus
Equatorial Guinea
Format
In-person
Please review the details below for registration information if available or contact the Convenor if you would like to attend.
Curator
Iltmo. Señor Gabriel-Martín Esono NDONG MICHA, Director General de Ganadería, Sanidad Animal y Control de Alimentos
Description
Guinea Ecuatorial organiza, con el apoyo del Sistema de las Naciones Unidas en el país, una segunda sesión de Diálogos Nacionales para preparar su participación en la próxima Cumbre Mundial de Sistemas Alimentarios, convocada por el Secretario General de la ONU para el mes de septiembre, en Nueva York.
El objetivo principal de estos diálogos nacionales es escuchar a todos los actores involucrados en la cadena de producción de alimentos, con vistas a buscar soluciones para desarrollar un sistema alimentario más resistente, sostenible y equitativo para todas las personas, y para el planeta.
Este evento se convoca desde la convicción de todos los Estados Miembros de que la pandemia del COVID-19 ha retrocedido el progreso del cumplimiento de la Agenda 2030 y de los Objetivos de Desarrollo Sostenible (ODS), destruyendo los sistemas alimentarios cuyo potencial es fundamental para la consecución y logro de todos los ODS, especialmente el Objetivo 2.
Son cinco las vías de acción que se recomienda a los países analizar durante los Diálogos Nacionales. De ellas, los actores de la cadena de producción alimentaria en Guinea Ecuatorial han optado por examinar y proponer soluciones innovadoras a las siguientes: 1. Impulsar la producción favorable a la naturaleza 2. Garantizar el acceso a los alimentos sanos y nutritivos para todos 3. Promover medios de vida equitativos.
Acknowledgement
Oficina de Coordinación del Sistema de las Naciones Unidas, FAO, PNUD y UNICEF.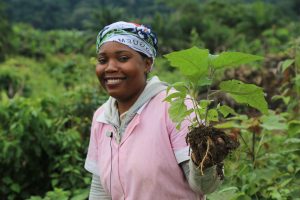 Image credit: FAO Guinea Ecuatorial/Maribel Ibule