Official Dialogue Feedback to the United Nations 2021 Food Systems Summit
Last updated:
Download PDF
Type of Dialogue
Independent
Convened by
FRENTE PARLAMENTARIO CONTRA EL HAMBRE- CAPÍTULO MÉXICO
Language of Dialogue Event
Español
City
Ciudad de México, CDMX, México
Format
Online
Please review the details below for registration information if available or contact the Convenor if you would like to attend.
Curator
Secretaría técnica de el Frente Parlamentario Contra el Hambre Capítulo México
Description
El FPCH, Capítulo México, convoca a las y los integrantes, las organizaciones sociales, instituciones y personas interesadas que se sumen al "Diálogo independiente: sistemas alimentarios regenerativos, inclusivos y resilentes" para promover acciones comunes que permita avanzar en la resolución de los problemas estructurales del hambre, la malnutrición, la emergencia sanitaria y el cambio climático en nuestro país y el mundo rumbo a la Cumbre 2021 Sobre los Sistemas Alimentarios.
 Este diálogo representa la oportunidad de fortalecer políticas y directrices de atención prioritaria a los sistemas alimentarios de todo el mundo, desde una perspectiva integral, regenerativa, inclusiva y resiliente eimplica también proteger a la población de los riesgos y amenazas de la actual contingencia sanitaria que enfrentamos actualmente y que pone en peligro la vida y salud de todas las personas. Asimismo, es la oportunidad de transitar a sistemas agroalimentarios más sanos y sustentables que faciliten el acceso de las personas a los derechos básicos de supervivencia y mejor calidad de vida.
En México, queremos seguir impulsando el avance en la consecución de los 17 Objetivos de Desarrollo Sostenible (ODS) de las Naciones Unidas. Desde el Frente Parlamentario Capítulo México reiteramos el compromiso promover todos los esfuerzos locales, nacionales, mundiales que fortalezcan los sistemas agroalimentarios justos, saludables y sustentables. Estamos convencidas  y convencidos de que con el trabajo colaborativo de las autoridades, organizaciones sociales, académicos y la sociedad civil avazaremos en mejores propuestas para  Cumbre 2021 Sobre los Sistemas Alimentarios.
Acknowledgement
A todas y todos los integrantes, organizaciones e instituciones que pertenecen al Frente Parlamentario Contra el Hambre Capítulo México, Organización de las Naciones Unidas para la Alimentación y la Agricultura, Cámara de Diputados, Cámara de Senadores de México, Frente Parlamentario Contra el Hambre de América Latina y Caribe.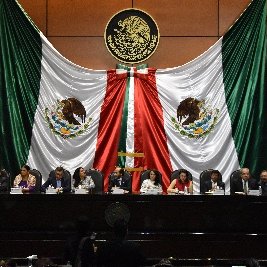 Image credit: Frente Parlamentario Contra el Hambre Capítulo México