Type of Dialogue
Independent
Convened by
Maame Manful, Thought For Food (West Africa)
Language of Dialogue Event
English
Geographical focus
No borders
Format
Online
Please review the details below for registration information if available or contact the Convenor if you would like to attend.
Curator
Albert Kure, Thought For Food (West Africa)
Description
Food systems are complex and crucial to the survival of both humans and the planet, as is the farm to fork transition of food that impacts our lives, economies, environment, cultures, and health. Growing food insecurity is a cause for concern as inefficient  production, packaging and consumption activities in the value and supply chains of the food and Ag industry continue.
Constantly increasing population, unstable climates, inequalities, social exploitation and public health vulnerabilities, as with the COVID-19 pandemic, are putting more strain on the already fragile food systems. Despite these, there is cause for hope since the food systems transformation requires not just a multi-sector and multi-stakeholder approach and crucial partnerships, but one which can be executed more efficiently by leveraging energetic youth who make up over 60% of the current African population.
Solving challenges as complex and urgent as those posed by today's food systems will require bold action, a forte of youth the world over, as well as global collaboration across regions, borders, and all types of food system stakeholders. Systems change demands a new approach: new minds working together in brave new ways to build a resilient and inclusive world where the food systems promote dignity and human/planetary health.
"Half the world is under 30. They have to live with the consequences of decisions taken today longer than anyone else but they have relatively little say in how the decisions are made and what they are."
Lawrence Haddad, Executive Director of Global Alliance for Improved Nutrition (GAIN)
Today's youth are the most health-conscious, socially aware, widely connected, mass-media adept, environmentally responsible and emotionally intelligent group of humans today. These characteristics increase their potential as a collaborative powerhouse whose action should not be taken lightly, as their unity of purpose has systemic potentials that can spring previously unimagined ideas to change the game and catalyze global transformation. From that understanding, this dialogue aims to galvanize and place a spotlight on the ideas, initiatives and innovations of youth in West Africa, and around the world, exploring the role that action of and collaboration between these powerful individuals or previously siloed agents of change can have on food systems.
"We (youth) have the power to take action ourselves and the right to demand urgent large-scale action from decision-makers in government and business to defeat hunger, improve sustainable healthy diets and improve our planet,"
#Act4Food #Act4Change Youth Leaders
Thought For Food is the world's pioneer and leader in next-gen innovation and startup acceleration for food and agriculture, powered by TFF Challenge programs, an ever-growing TFF Community of over 30,000 Millennial and GenZ talents in 175+ countries, and the first-of-its-kind innovation and collaboration platform called the TFF Digital Labs. The Digital platform is currently being used in the Food Systems Game Changers Lab (FSGCL), a Collaboratory accelerator in support of the UNFSS by the Rockefeller Foundation, OpenIDEO, EAT, Forum for the Future, to discover and support ideas, enterprises and initiatives with the potential for food systems transformation.
Acknowledgement
Christine R. Gould, Dr. Paul Abolo (Nigeria), Prof. Ibok Oduro (Ghana), Samuel Rigu (Kenya), Okettayot Lawrence (Uganda), Ilorin Global Shapers (Nigeria), Tiger House (Ghana), Dr. Hafsat Gremma (Nigeria).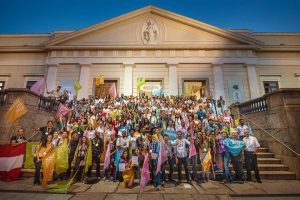 Image credit: Jelmer de Haas