Official Dialogue Feedback to the United Nations 2021 Food Systems Summit
Last updated:
Download PDF
Type of Dialogue
Member State
Convened by
LES DEPARTEMENTS SECTORIELS, LES ONG, LES SCIENTIFIQUES ET AUTRES CORPORATIONS: Agriculture, Elevage, Pêche, Environnement, Transport, Commerce, Industrie, Finances, Budget, Administration du territoire et de la Decentralisation, le Systeme des Nations Un
Language of Dialogue Event
Le français et les langues du terroire
Format
In-person
Please review the details below for registration information if available or contact the Convenor if you would like to attend.
Curator
Le Bureau du Ministre d'Etat, Coordonateur National, le Comité technique, le Systeme des Nations Unies
Description
Extrait du Discours cadre du lancement des concertations en Guinée:
Les réformes et efforts fournis ces dernières années dans les secteurs de l'agricultures, des pêches et de l'élevage sous l'initiative et l'impulsion de Monsieur le Président de la République, Professeur Alpha CONDE, ont permis d'accroitre le niveau de production, de diversification et de transformations des produits alimentaires en général et des denrées de premières nécessités en particulier.
C'est dans le cadre de l'amélioration de ces résultats et en partenariat avec le Système des Nations Unies à travers sa représentation en Guinée, que Son Excellence Monsieur le Président de la République a agréé la participation de la Guinée au processus mondial des dialogues sur les systèmes alimentaires, en réponse à l'appel formulé en décembre 2019, par le Secrétaire Général des Nations Unies, Monsieur António Guterres, dont je cite : «  faire un diagnostic partagé et une évaluation participative et inclusive du système alimentaire mondiale pour l'atteinte des objectifs des ODD et l'amélioration de la qualité et de la sécurité alimentaire pour le mois de septembre 2021 à New York, en marge de l'Assemblée générale de l'ONU ».
Vous comprendrez dès lors, que le but du rendez-vous de septembre 2021 à New York, est de mettre la planète en ordre de marche pour atteindre l'objectif « faim zéro » en 2030, que s'est fixée la communauté internationale, alors qu'une frange importante de la population mondiale est sous-alimentée, que l'obésité et le diabète gagnent du terrain et que le réchauffement climatique menace le cadre environnemental global et par ricochet la pérennité des récoltes.
La tenue des ateliers de haut niveau dont la région forestière a le privilège d'accueillir la première session, offre une extraordinaire occasion de se livrer à des réflexions et faire des propositions sur des thèmes cruciaux liés à nos systèmes alimentaires, et ils sont en cela un événement en soi, de par l'éminence des participants, notament les acteurs et praticiens expérimentés, ainsi que les facilitateurs et techniciens dévoués. J'y vois le signe novateur d'un engagement et d'une disponibilité des responsables de tous les secteurs de la chaine alimentaire, mais aussi des organisations paysannes, des ONG et de l'ensemble de la communauté des systèmes alimentaires de notre pays.
Ainsi, vous experts en la matière et hommes de métiers de l'alimentation, réunis ici pendant deux jours, tacherez  de produire un rapport régional sur vos préoccupations, vos défis et vos propositions de solutions, qui sera porté à l'attention du Gouvernement et du Système des Nations Unies, pour contribuer à l'élaboration du Rapport Pays.
Ce rapport proposera aussi, des solutions plus adaptées et innovantes pour la maitrise de l'eau, l'amélioration des infrastructures et des capacités de commercialisation, l'accroissement de la production végétale et animale, ainsi que la vulgarisation de la recherche scientifique et de la technologie.
La méthodologie consiste à permettre à chacun dans son propre langage et vocabulaire, d'exprimer clairement et librement ses idées dans un cadre de concertation et d'harmonisation qu'est le groupe de travail.
D'où, l'intérêt pour les participants de remplir les fiches de collectes d'informations et de présenter leur rapport de groupe.
Je voudrais, enfin, exprimer au nom de tous les délégués venus d'ailleurs ma gratitude aux autorités régionales, préfectorales et communales de Nzérékoré, ainsi que les représentations locales des Agences du Système  des Nations Unies, pour l'accueil et l'hospitalité traditionnels réservés à tous.
Sur ce, je déclare ouvert le présent atelier de concertations sur les systèmes alimentaires en Guinée.
Acknowledgement
je voudrais singulièrement remercier S.E.M. le Président de la République, Professeur Alpha CONDE, Monsieur le Premier Ministre et tous les membres du Gouvernement, ainsi que le Système des Nations Unies en Guinée, pour tous les efforts et l'accompagnement déployés pour l'organisation de ces activités de concertations nationales.Mes remerciements vont à l'endroit des éminents experts nationaux et du Système des Nations Unies, ainsi qu'à tous les participants à cet atelier, pour leurs présences effectives et leurs contributions remarquables aux échanges fructueux les problématiques des s des systèmes alimentaires en Guinée.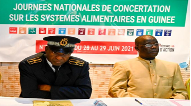 Image credit: Le Systeme des Nations Unies, l'Etat guinéen