Official Dialogue Feedback to the United Nations 2021 Food Systems Summit
Last updated:
Download PDF
Type of Dialogue
Independent
Convened by
DR. SARADA PRASAD MOHAPATRA/MR. NTIOKAM DIVINE
Language of Dialogue Event
ENGLISH HINDI ODIA FRENCH
City
Bhubaneswar, Odisha, India
Format
Online
Please review the details below for registration information if available or contact the Convenor if you would like to attend.
Description
This dialogue mainly includes Academia/Researchers/Scientists Youth/women form every sectors and the main area of discussion is on various ecosystem services which are being exploited by human day by day which causes a bad effect on the food system leading to hunger and poverty. In this respect this dialogue is very important from food security point of view and it aims to get a sustainable solution so as to achieve SDG 2.
Acknowledgement
GCSAYN AND NARASINGH CHOUDHURY AUTONOMOUS COLLEGE, JAJPUR, ODISHA, INDIA.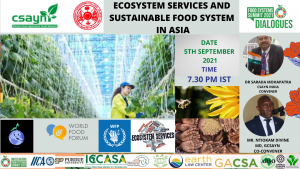 Image credit: NARASINGH CHOUDHURY AUTONOMOUS COLLEGE, JAJPUR, ODISHA, INDIA