Type of Dialogue
Independent
Convened by
Ntiokam Divine ( Founder and Managing Director and UNFSS Champion)
Language of Dialogue Event
French and English
Geographical focus
Cameroon
Format
Online
Please review the details below for registration information if available or contact the Convenor if you would like to attend.
Curator
Dr. Sarada Prasad Mohapatra ( GCSAYN Center of Excellence Lead for Asia )
Description
The Food Systems Summit Dialogue is an Independent Dialogue to gather experiences and ideas of all who are engaged in agriculture, food security, climate change issues, waste management etc. It is a virtual engagement that will create a platform for women, youth (in agriculture and allied sectors) voices to be heard and for them to access collaboration and networking opportunity. This is being organized by Climate Smart Agriculture Youth Network Global (GCSAYN) and partners across the Globe.
Rationale
As we all know nature has a pivotal role in ensuring a more profitable and sustainable relevance in scaling the productivity of small holder farmers. How we adhere to natural resources depicts our wavelength towards transforming the broken food systems globally.   But nature is most a times neglected and tempered with or neglected as part of the society/community as it can't raise her voice. In the long run it will definitely hamper the food security and other related issues. Therefore, this dialogue is most needed to bring nature-based solutions as a catalyst to redefine the broken food systems towards  engaging  academics/research/scientists/entrepreneur  around the table to discuss what they want to see done to improve the food systems.
Objective
The objective of the dialogue is:
Create a platform for all stake holders to speak out on global food system issues.
Consideration of views of all on the ways to transform global, regional and national food systems via nature-based solutions.
Expected Outcome
Suggestions and recommendations gathered from participants on ways to transform the food systems
Experiences of panels of experts and youth in mainstreaming NBS in all their actions.
Views for Media persons in connection with this issue
Establishing a NBS platform / network to enhance the achievement of Ending Hunger by 2025.
Target
The dialogue target more than 150 participants, a panel of 5 speakers. It also includes a breakout session for all(participants/panellists) for an open discussion.
Expected participants
Students
Youth
Members from Academia/Research/Scientist
Agripreneurs/Industry persons
Government officials
Media persons
Acknowledgement
Mr. Jean Watard Njita , National Information Officer,UNIC Yaounde,Cameroon.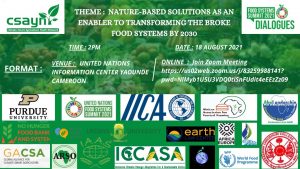 Image credit: Gabriel SITEZEU TOWEN, ( Afroleadership and GCSAYN Web developer and social Media Lead)