Type of Dialogue
Independent
Convened by
Margaret Yoovatana - Chair, ASEAN Climate Resilience Network (ASEAN-CRN); FAO RAP - Regional Office for Asia and the Pacific; Simon Leiva - Coordinator, Global Alliance for Climate-Smart Agriculture (GACSA)
Geographical focus
No borders
Format
Online
Please review the details below for registration information if available or contact the Convenor if you would like to attend.
Curator
Ms. Imelda Bacudo - Convenor of the ASEAN Climate Resilience Network (ASEAN-CRN) & Mr Lufingo Mwamakamba - Regional CSA Alliance Leader - Global Alliance for Climate-Smart Agriculture (GACSA)
Description
The Association of Southeast Asian Nations (ASEAN) countries have made significant progress in improving incomes and economic opportunities, including for women, and reducing poverty since 2000. However, ensuring more inclusive and environmentally sustainable growth presents a key challenge for ASEAN. A number of countries are still falling behind on non-income measures of poverty, such as access to health, sanitation, housing, and education services.  There are also climate-related and geographic risks unique to the ASEAN region, which increase the vulnerability of poor populations and their risk of sliding into extreme poverty due to natural disasters.
Climate change and environmental vulnerability have been derailing progress in poverty reduction in ASEAN member states. Southeast Asian countries have piloted innovative and practical agricultural solutions to climate impacts, such as agro-advisories, participatory community-based approaches, and technology-based farm information and financial management technologies. Through the ASEAN Negotiating Group on Agriculture (ANGA), Southeast Asian Countries have identified common solutions to shared challenges for sector-specific climate action as well as technical and financial gaps and needs that could be addressed in-part through further support from the Constituted Bodies and Financial mechanisms under the United Nations Framework Convention on Climate Change (UNFCCC). This regional collaboration has also helped to identify areas where regional approaches in response to shared climate change challenges in the agriculture sector can be more effective and potentially more efficient.
Leveraging the momentum of the Food Systems Summit, the ASEAN-Climate Resilience Network (ASEAN-CRN), in cooperation with the Global Alliance for Climate-Smart Agriculture (GACSA), will convene an Independent Summit Dialogue to give stakeholders from the ASEAN region an opportunity to contribute to designing the food systems of the future, and to explore how they can work together to make the transformations happen in the coming decade. The Summit Dialogue will use the UN provided standardized approach to convening, curating, and facilitating structured conversations among groups with different perspectives on how to get their food systems to work for the common good. The ASEAN-CRN and GACSA, as the main organizers, will create an inclusive and supportive venue for debate, collaboration, consensus-building, and shared commitment to making change happen.
The Policy Dialogue program will feature plenary sessions and theme-based break-away sessions. The dialogue will provide time and space for informal discussion groups, enabling participants to engage fully. Social media, including Facebook, Twitter, and YouTube, will form part of the communications strategy to promote the dialogue and disseminate proceedings and outcomes.
Acknowledgement
ASEAN Climate Resilience Network (ASEAN-CRN); FAO Asia-Pacific Regional Office; Global Alliance for Climate Smart Agriculture (GACSA).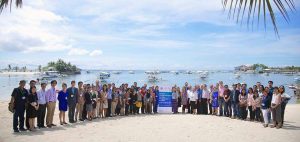 Image credit: ASEAN Climate Resilience Network (ASEAN-CRN)