Type of Dialogue
Member State
Convened by
GUIRE ALASSANE , DGDR PRIMATURE; Co-organisateurs : TRAORE SOULEYMANE , FAOBF; Dr SEDOGO MICHEL et DR NEYA TIGA, FACILITATEURS DES CONCERTATIONS
Language of Dialogue Event
Français
City
N3, Ouagadougou, Burkina Faso
Geographical focus
Burkina Faso
Format
In-person
Please review the details below for registration information if available or contact the Convenor if you would like to attend.
Curator
Dr THIOMBIANO LAMOURDIA, ancien SG MINISTERE AGRICULTURE
Description
La cérémonie d'ouverture de la troisième concertation nationale sera placée sous le Haut Patronage de SEM le Premier Ministre, représenté pour la circonstance par les Secrétaires Généraux   des Ministères en charge de l'Agriculture, des Ressources Animales et Halieutiques, de l'Eau et de l'Environnement.
Le thème de cette concertation sera examiné en travaux de groupes puis en plénière suivant les trois sous-thèmes ci-après:
1-Les lois nationales, les finances publiques aux niveaux national et local sont adéquates et suffisantes pour amorcer des nouvelles actions et organisations de Systèmes alimentaires résilients et durables au Burkina Faso ;
2-Les financements intérieurs et extérieurs sont conséquents pour l'appui au pays pour promouvoir des nouvelles actions et organisation de Systèmes alimentaires résilients et durables ;
3-Les producteurs, les transformateurs, les distributeurs et les consommateurs, chacun à son niveau, adoptent de bonnes pratiques y compris la gestion des déchets pour assurer la durabilité du système alimentaire dans les années à venir.
Acknowledgement
AGRA; SYSTEME DES NATIONS UNIES (FAO, PAM, PNUD, OMS, UNICEF, FIDA, Coordinatrice SNU); NEPAD, Broederlijk Delen; Société civile.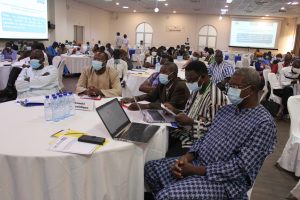 Image credit: FAO-BF