Type of Dialogue
Member State
Convened by
GUIRE ALASSANE , DGDR PRIMATURE; Co-organisateurs : TRAORE SOULEYMANE , FAOBF; Dr SEDOGO MICHEL et DR NEYA TIGA, FACILITATEURS DES CONCERTATIONS
Language of Dialogue Event
Français
City
Bobo-Dioulasso, Burkina Faso
Geographical focus
Burkina Faso
Format
In-person
Please review the details below for registration information if available or contact the Convenor if you would like to attend.
Curator
Dr THIOMBIANO LAMOURDIA, ancien SG MINISTERE AGRICULTURE
Description
La cérémonie d'ouverture de la quatrième concertation nationale sera placée sous le Haut Patronage de SEM le Premier Ministre, représenté pour la circonstance par les  Ministres en charge de l'Agriculture, des Ressources Animales et Halieutiques, de l'Eau et du Représentant Résident de la FAO au Burkina Faso.
Cette quatrième Concertation a pour objectifs  de :
présenter le contenu de la Déclaration du Burkina Faso au Pré-Sommet ;
dégager et formuler la Voie Nationale en se fondant sur les Engagements Nationaux ;
consolider et Adopter la Feuille de route permettant d'améliorer la durabilité des Systèmes Alimentaires du Burkina Faso à l'horizon 2030 ;
assurer la cohérence entre la Voie Nationale et la Feuille de route qui seront présentées par Son Excellence Monsieur le Président du Faso au Sommet Mondial sur les Systèmes Alimentaires en Septembre à New York.
Acknowledgement
AGRA; SYSTEME DES NATIONS UNIES (FAO, PAM, PNUD, OMS, UNICEF, FIDA, Coordinatrice SNU); NEPAD, Broederlijk Delen; Bureau Régional ACF-DAKAR, Société civile.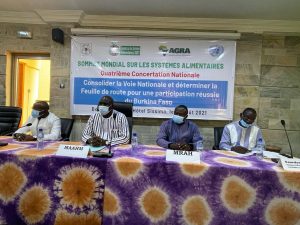 Image credit: MAAHM