Official Dialogue Feedback to the United Nations 2021 Food Systems Summit
Last updated:
Download PDF
Type of Dialogue
Independent
Convened by
Ivy Akinyi -Leaders for Action and Development in Africa (LADA), Michael Asudi- Organisation of Africa Youth (OAY)
Language of Dialogue Event
Swahili,English
City
Kangemi, Nairobi Province, Kenya
Format
In-person
Please review the details below for registration information if available or contact the Convenor if you would like to attend.
Curator
Margaret Atieno-OAY
Description
Nutrition of young mothers and infants. The focus areas; promoting better nutrition practices ( breastfeeding practices, feeding children when sick,feeding HIV/AIDS children) and Malnutrition Awareness.
During the dialogue we look forward to talk about the issues preventing young mothers to provide proper nutrition to their young ones as well as themselves,how within their small communities  they can empower each other to observe and practice good nutrition to ensure a healthy life for their infants.
Acknowledgement
Leaders for Action and Development in Africa, Organization of Africa Youth,Kangemi Health centre.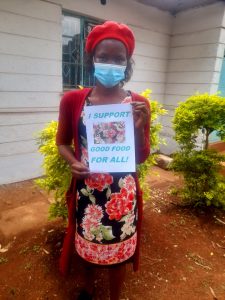 Image credit: Margaret Atieno - OAY