Official Dialogue Feedback to the United Nations 2021 Food Systems Summit
Last updated:
Download PDF
Type of Dialogue
Independent
Convened by
Dr. Ing. Agr. Walter A. Pengue - GEPAMA - UNIVERSIDAD DE BUENOS AIRES
Language of Dialogue Event
ESPAÑOL /SPANISH
City
Pres. Dr. Raúl Alfonsín, Buenos Aires, Argentina
Geographical focus
Argentina, Chile, Colombia
Format
Online
Please review the details below for registration information if available or contact the Convenor if you would like to attend.
Curator
Lic. Andrea Rodriguez - GEPAMA - UNIVERSIDAD DE BUENOS AIRES / Ing. Agr. Daniel Díaz - INTA - BUENOS AIRES
Description
AGROECOLOGIA, SISTEMA ECOAGROALIMENTARIO Y SALUD SOCIOAMBIENTAL: CAMINO HACIA EL DESARROLLO SOSTENIBLE /
AGROECOLOGY, ECOAGRIFOOD SYSTEM AND SOCIOENVIRONMENTAL HEALTH: A WAY FOR SUSTAINABLE DEVELOPMENT
La agroecología emerge actualmente como ciencia, acción productiva en el campo y movimiento social.  Frente a un sistema alimentario en crisis, la integración de la agroecología a un modelo ecoagroalimentario es una alternativa muy viable para los pueblos y ciudades intermedias de América Latina y el Caribe y el mundo. En esta reunión, expertos internacionales, con más de 30 años de experiencia de trabajo en la investigación y en el campo, demostraran el enorme potencial que tiene el camino de la producción agroecológica.
De esta forma, se construye un sistema ganar-ganar donde productores, consumidores, lideres comunales y de la gestión pública resuelven un problema sustantivo de la humanidad, a la vez que mejoran las condiciones ambientales y de salud social y ecológica de los entornos agroproductivos.
La producción de alimentos, por la vía de un modelo ecoagroalimentario, construye además ciudadanía, empodera a los más necesitados, resuelve problemas alimentarios graves, fortalece capacidades y da empleo genuino, a la vez que permite reducir las emisiones de gases de efecto invernadero (cambio climático), mejora la calidad del suelo, agua, aire y biodiversidad y restaura sistemas degradados dentro, en el entorno de pueblos y ciudades y ofrece a la vez, nuevas alternativas de producción para los pequeños, medianos y grandes agricultores de América Latina y el mundo.
Se explicará en la presentación, con la participación de referentes mundiales en el tema, el cómo, qué, porqué, dónde es posible implementar modelos de esta índole, sus análisis, beneficios, costos, problemas y oportunidades.
Los esperamos para mostrar los ejemplos, las oportunidades y analizar el contexto regional hoy en día tan complejo frente a la producción de alimentos, los problemas de malnutrición de la región, el COVID19 y los serios efectos del cambio ambiental global y el cambio climático.
En los Diálogos participarán dando una perspectiva disparadora de temas, referentes mundiales de la Agroecología, con más de 4 décadas en la temática y la participación abierta con sus statements de mujeres y hombres de la investigación y la actividad independiente de toda América Latina.
Si desea registrarse, puede hacerlo en: https://forms.gle/hU4bzGggQP7dkU2v7
Si desea comunicarse con la Organización, GEPAMA, FADU, UBA puede hacerlo a la Coordinadora: ANDREA RODRIGUEZ [email protected]
Acknowledgement
UNIVERSIDAD DE BUENOS AIRES - UNIVERSIDAD NACIONAL DE GENERAL SARMIENTO - ARGENTINA.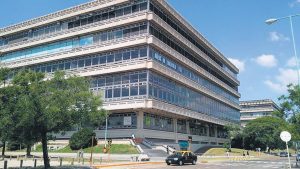 Image credit: UBA - UNIVERSIDAD DE BUENOS AIRES