Type of Dialogue
Independent
Convened by
Joseph Gourgo (Association Culartgba )
Language of Dialogue Event
English and French
Geographical focus
Cameroon
Format
In-person
Please review the details below for registration information if available or contact the Convenor if you would like to attend.
Curator
Auriole Kengne ( LadiesCare Association ) and Foretia Divine ( CSAYN Global )
Description
Résumé
Le nombre de migrants à travers le monde ces dernières années a connu une croissance considérable due à la recherche d'une vie meilleure. Depuis toujours, l'être humain est à la quête d'une condition de vie meilleure et, c'est dans cette lancé que beaucoup de jeunes des pays africain ont trouvé mieux de migrer afin de subvenir à leur besoin. Il s'agit d'une stratégie d'adaptation. Mais quel est l'impact de cette migration sur les systèmes alimentaires au Cameroun ? comment les affectent-elle ?
Notre dialogue a pour but d'échanger sur les conséquences de la migration clandestine sur les systèmes alimentaires afin de comprendre les chalenges et de déceler les opportunités offertes par ces systèmes.
Ordre du jour
Arrivée et enregistrement
Introduction et présentation des participants
Qu'est-ce que le « Sommet sur les Systèmes Alimentaires » (SSA) ?
Début du Dialogue
Brève présentation sur les Systèmes Alimentaires
Discussions
Conclusion
Recommandation
Fermeture des contributions
Acknowledgement
Ntiokam Divine (CSAYN Global).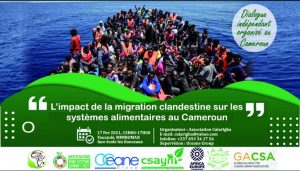 Image credit: Joseph Gourgo