Official Dialogue Feedback to the United Nations 2021 Food Systems Summit
Last updated:
Download PDF
Type of Dialogue
Member State
Convened by
Mr. Abdullah Hassan Al-Shater - Deputy Minister of Development Plans and Programs , Ministry of Planning
Language of Dialogue Event
Arabic
Format
In-person
Please review the details below for registration information if available or contact the Convenor if you would like to attend.
Curator
Abdulkarim Nasser - Head of SUN-Yemen Secretariat, Ministry of Planning and International Cooperation
Description
To explain the AT1's vision, objectives and directions, and enable national government and stakeholders from the private sector and civil society to engage in the issues of constructing sustainable and resilient food systems in the coming decade.
The purpose is to explore game-changing solutions which will be collected and developed with focus on the three work streams of the AT1 and tailored to local contexts, including cultural, social and economic aspects, the specific political economy of food, how food systems function, the existence and level of implementation of policies and regulations, institutional capacities and constraints on the ability of consumers on changing what they eat.
The problem to be addressed: Translating solutions into collaborative actions to support the resilience of food systems in Yemen, which should focus on:
 Fostering investment in holistic food systems approaches that address the prosperity of people and the environment in context such as Yemen's;
 Addressing inequalities – structural, social and gender – in access to and use of resources, knowledge, assets, technology and markets/value chains;
 Strengthen the capacity and resources of farmers, women, youth and micro, small and medium enterprises to effectively participate along the entire food system from production to consumption, providing them with the tools, techniques and advisory services needed to enhance their engagement with the private sector;
 Managing risk and security at all levels – the individual, society, government and systems;
 Coordinating policies, programs and investments (including aid) among all stakeholders, with governments at the fore;
 Explore blended finance and public-private partnerships (PPP) to mobilize funding for under-resourced initiatives to bring about positive change in food systems;
 Enabling systems to mitigate instability, shocks and stresses;
 Develop monitoring and evaluation systems to monitor, measure and evaluate interventions;
 Identify harmful agricultural practices such as excessive use of fertilizers and pesticides and excessive irrigation that contribute to soil degradation, soil alkalinity and erosion and threaten sustainable food systems.
Acknowledgement
Hessein Gadain, FAO-Yemen Representative - Dr. Mohammed Sallam, FAO - Joel Munywoki, FAO.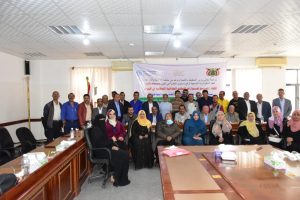 Image credit: SUN-Yemen Secretariat