Type of Dialogue
Independent
Convened by
The Resilient40
Language of Dialogue Event
English
Geographical focus
No borders
Format
In-person
Please review the details below for registration information if available or contact the Convenor if you would like to attend.
Description
An African youth summit exploring solutions to accelerate investment in and support agriculture and food systems innovation for climate action through climate-smart food production systems during the Africa Climate Action Summit in Nairobi, Kenya.
The Summit, organized by The Resilient40 (R40) is a global youth event "for the partners, by the partners" that will provide a game-changing platform for youth Climate activists, including policymakers, industry leaders, civil society groups and scientists and researchers, to drive rapid and transformative climate action and raise ambition and amplify their work in climate-smart agriculture and food systems innovation.
This is in line with The Resilient40's recent youth meeting at the African Union headquarters in Addis, Ababa Ethiopia, supported by the African Union Blue economy and environmental department, US and UK Missions to the AU.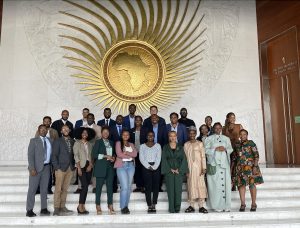 Image credit: The Resilient40