Official Dialogue Feedback to the United Nations 2021 Food Systems Summit
Last updated:
Download PDF
Type of Dialogue
Member State
Convened by
Mr. Arman Khojoyan, Deputy Minsiter of Economy of Armenia
Language of Dialogue Event
Armenian
Geographical focus
Armenia
Format
In-person
Please review the details below for registration information if available or contact the Convenor if you would like to attend.
Curator
Mr. Vardan Urutyan, Rector of the Armenian National Agrarian University
Description
The Republic of Armenia launches a two-stage national multi-stakeholder Dialogue to shape pathways towards sustainable food systems by 2030.
Food safety implementation has emerged as a priority component in need of reforms and enhancement to enable countries to ensure the safety of the domestic food supply and to take advantage of international trade opportunities.
In this regard, the Republic of Armenia fully supports the initiative of the UN Food Systems Summit and is committed to meeting the goals of the Summit.
The Two-Stage Dialogue "Building Sustainable Systems through Inclusive Value Chains" will initiate a discussion with special focus on linkages between the five objectives of the Summit to find a collaborative action on five action tracks.
The discussion topics of the Dialogue shall include:
Efficient land use and land reform;
Food safety policies and control systems in place to assess the main sources of foodborne diseases and food safety risks, as well as effectively manage and communicate with key stakeholders on these risks;
Traceability: diversifying and entering new markets;
Adequate infrastructure: logistics warehouses, post-harvest holding capacities, distribution center;
Access to finance and credit for operators in the food and agricultural sector;
Resilience in the agri-food supply chains.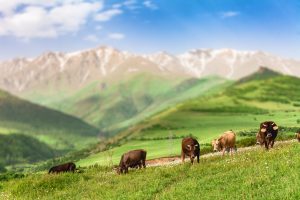 Image credit: Image used under license from Shutterstock.com