Official Dialogue Feedback to the United Nations 2021 Food Systems Summit
Last updated:
Download PDF
Type of Dialogue
Independent
Convened by
IICA - Instituto Interamericano de Cooperación para la Agricultura // Inter-American Institute for Cooperation on Agriculture
Language of Dialogue Event
Spanish / English
City
San José Province, San José, Costa Rica
Geographical focus
No borders
Format
Online
Please review the details below for registration information if available or contact the Convenor if you would like to attend.
Curator
Dirección de Cooperación Técnica // Directorate of Technical Cooperation
Description
Las crecientes demandas en el consumo de alimentos sanos y nutritivos, los desafíos respecto a la presión sobre los recursos naturales (suelos, agua, biodiversidad) y la escasez energética, requieren que los países promuevan el mejoramiento de los sistemas de producción agroalimentaria, mediante la aplicación de nuevas tecnologías, buenas prácticas y conocimientos para aumentar la productividad y la sostenibilidad. Asimismo, deberán realizarse esfuerzos para promover un sistema a basado en normas, abierto, transparente, predecible, basado en ciencia, no discriminatorio y equitativo; incorporando una visión integrada de los problemas de salud humana, animal y de los ecosistemas en los que vivimos, a través de la implementación del Enfoque Una Salud, e impulsando medidas que promuevan la liberalización y la facilitación del comercio agroalimentario que favorezca la seguridad alimentaria.
La transformación de los sistemas alimentarios es compleja y debe ser abordada de manera integral buscando acciones que se interrelacionan y potencien resultados de impacto que permitan avanzar en las cinco vías de acción propuestas por la Cumbre. Durante este evento se analizará cómo el Enfoque Una Salud (OHA, por sus siglas en inglés) y el comercio internacional pueden contribuir en la transición hacia sistemas alimentarios más sostenibles.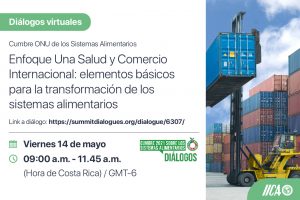 Image credit: IICA