Type of Dialogue
Independent
Convened by
Kuntum Melati, Research Associate at SEI Asia & Sofia Cavalleri, PhD Candidate at SEI Asia
Language of Dialogue Event
English
City
Khet Pathum Wan, Thailand
Geographical focus
No borders
Format
Online
Please review the details below for registration information if available or contact the Convenor if you would like to attend.
Description
Speakers: Janina Peter, Radhika Khandelwal, Haiya Zhang, Tsholofelo Wechoemang
Our food has a story. We often overlook the fact that a third of global gas emission comes from our current complex food systems. The story of our food production, supply chains, and environment need to be told and many actors need to be heard. It is important that we contribute to a positive feedback system so that our daily meals do not support deforestation, human rights violations, jeopardizing our planetary boundaries.
Food systems are complex systems. And this has been restated by the High-Level Panel on Food which has described them as "relationships that support food production, food supply chains, food environments, the behaviors of individual consumers, diets, and nutritional and wider outcomes that feed back into the system." Indeed, our daily decisions on our food intake and dietary preferences have an impact on bigger large-scale interconnected processes with important economic, environmental, socio-cultural and policy implications. We might not realize this, but what we choose to eat is part of the bigger web that could affect other systems negatively, positively, or both.
Food loss and food waste emerge as one of the major challenges of our current food systems. FAO estimated that there are 800 million people suffering from hunger every day. However, at the same time, one-third of our global food is going to waste. The food crisis that the world is facing is not only due to food scarcity but also due to poor logistics embedded in its food value chains. The existing power imbalances in terms of participation in the food systems, access and control over food resources, food loss, nutritional deficiency, and other interconnected issues are an indicator of how inequality is deeply rooted in our food systems. These need to be unveiled, exposed, and discussed.
Why should you join? Our production and consumption patterns have created a massive problem for the environment due to food homogeneity, unsustainable agriculture practices, exploitation of natural resources, and so forth. This session aims to reveal and share the real story behind the food that we have consumed. How can we narrate a better story to create a better and more sustainable future? The diets that we choose, prepare, and eat are crucial for the planet and human well-being. Movements have been made to ensure how to make our food more environmentally friendly through concepts such as "farm to table" restaurants, circular economy in food, food truck, and agritourism to diversify the livelihood of rural communities. Hence, it is important to unpack the food systems by directly hearing the story from various actors involved (farmer, trader, consumer, waste disposal, etc) and discuss how we can create a better loop that brings a more positive outcome to people and the planet.
Aim and structure of the event: This will be an interactive event; we propose a creative approach on how to narrate with an easier/catchier story-telling style. The aim is to inspire the audience and create curiosity about the complexity of the food system. Storytellers could be sipping tea/coffee/a local drink and starting by presenting their local drink beverage made with seasonal ingredients to then talk a bit more about their role in the food system. From the sourcing of raw materials and production stage to the transportation, manufacturing, consumption, waste management steps, different storytellers will share their take on what a sustainable food system means at various stages of the food value chain. The structure is like a "world café" event, but more interactive, opening opportunities for the public to ask questions to the speakers in the end (like Clubhouse but rooted in science and anchored to experts/practitioner's professional experience).
Acknowledgement
Speakers: – Janina Peter, Founder of Good Consulting, Food Systems Hero for the United Nations Food Systems Summit and Food Systems Project Manager for Thought For Food – Radhika Khandelwal, Chef and Owner of Radish Hospitality and a member of the Chef's Manifesto – Haiya Zhang, Coffee Supply Chain Professional and Sustainable Management Services Manager of ECOM China – Tsholofelo Wechoemang, Published Author, #FoodSecurityFriday Podcaster and the co-founder and CEO of Selah SA.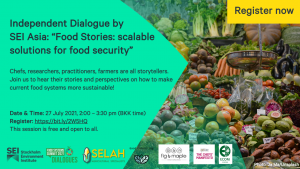 Image credit: SEI