Official Dialogue Feedback to the United Nations 2021 Food Systems Summit
Last updated:
Download PDF
Type of Dialogue
Independent
Convened by
Vincent Doumeizel / Senior Advisor Ocean / United Nations Global Compact
Language of Dialogue Event
English
Geographical focus
No borders
Format
Online
Please review the details below for registration information if available or contact the Convenor if you would like to attend.
Curator
Nichola Dyer / World Bank Group (retired) / International Economic Development, Partnerships, Stakeholder Engagement
Description
Powering the Seaweed Revolution for Transformational Change in our Food System
This Dialogue has three aims:
Introduce seaweed to a variety of food system actors
Explore its potential to help address global food system and development challenges, along with barriers to that potential.
Visualize a food system in 2050 with seaweed fully integrated.
Background
In September 2021, UN Secretary-General Antoìnio Guterres will convene a Food Systems Summit as part of the Decade of Action to achieve the Sustainable Development Goals (SDGs) by 2030. The Summit will launch bold new actions to deliver progress on all 17 SDGs, each of which relies to some degree on healthier, and more sustainable and equitable, food systems. The Food Systems Summit is about working together to transform the way the world produces, consumes, and thinks about food.
That transformation includes truly integrating our thinking across land and sea. Ocean ecosystems and the communities who depend on them are reeling from the combined pressure of global warming, pollution, and overexploitation. Hunger, malnutrition, poverty, and the climate crisis threaten our very existence. Sustainable solutions will depend on holistic, systemic approaches. Yet siloed thinking and analysis continue to prevail.
Dialogue
This Dialogue is about harnessing the power of seaweed to contribute to the sustainability of our food system, now and in the future. Participants, drawn from both seaweed and food system stakeholders, will explore how seaweed can be a new foundation of ecosystem restoration through aquaculture and equitable blue food systems. The Dialogue will highlight the untapped potential of seaweed to contribute, through regenerative aquaculture, to restoring ocean health while helping ease hunger, malnutrition, and other global challenges. It will also bring to light obstacles to achieving that vision.
Two keynote presentations will set the stage. The first will be by a team from three Michelin star Restaurant Mirazur, which uses 50 different types of seaweed in its cuisine and in innovating new flavors: Chef Mauro Colagreco and Chief of Research & Development Luca Mattioli. Vincent Doumeizel of UN Global Compact and Lloyd's Register Foundation, a leader in organizing seaweed stakeholders, will then give an overview of seaweed's uses and potential, as well as challenges to realizing that potential.
Participants will be directed to pre-assigned breakout rooms, where they will engage in highly participatory facilitated conversations. In the first round, they will share and exchange information about the power and potential of this under-tapped resource and articulate barriers to fully integrating seaweed into the food system. Topics to be covered: environment, social inclusion, nutrition, economic development, innovations, seaweed on the farm, indigenous knowledge and culture, governance, and the value chain. Key discussion points will then be reported in plenary.
In the second round, participants will envision food systems in 2050 in which seaweed has been fully integrated, and "work backwards" to define critical actions that can lead to this future. This round will cover production and scaling up, financing innovation, nutrition and diet, accountability and ethics, and seaweed and the African continent. Key elements of the different pathways will be shared in a final plenary, and the event will wrap up with closing remarks.
Due to the need to assign participants to breakout rooms in advance, participation will be by invitation only. A limited number of slots may open as invitees respond. Please advise us of your interest by sending an email to Vincent Doumeizel at [email protected], cc Nichola Dyer at [email protected].
If you choose to contact the organizers using the button on this FSSD website page, please INCLUDE YOUR CONTACT INFORMATION in your message. If you do not include this information we will not be able to respond to your query.
Acknowledgement
Nichola Dyer, Lloyd's Register Foundation.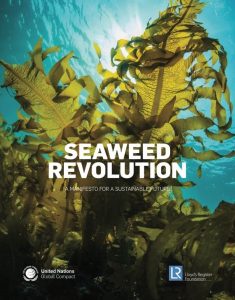 Image credit: UNGC