Type of Dialogue
Independent
Convened by
Vincent Doumeizel / Senior Advisor Ocean / United Nations Global Compact
Geographical focus
No borders
Format
Online
Please review the details below for registration information if available or contact the Convenor if you would like to attend.
Curator
Nichola Dyer, retired from World Bank, International Economic Development Partnerships & Stakeholder Engagement
Description
The seaweed industry is on the cusp of a transformational moment. Twelve thousand years of agriculture has left little space on land to meet the needs of a growing population. In our oceans, the combined pressure of global warming, pollution and overexploitation has left ecosystems in desperate need of repair. Hunger. Malnutrition. Poverty. The climate crisis. Seaweed can help humanity face up to the seemingly intractable challenges of our time, while unlocking an inclusive source of income for communities around the world. 
For generations, seaweed has remained one of the great untapped resources. But a revolution is coming. In a year of landmark environmental summits, the rise of stakeholder capitalism and commitments to a green recovery, the convergence of global issues, increased awareness of seaweed's potential and an influx of investment is igniting a period of accelerated growth.
But unprecedented demand brings urgent challenges. This dialogue will explore how seaweed could help our generation to be the first one on earth to feed the entire planet with safe and sustainable food.
Acknowledgement
Nichola Dyer, Lloyd's Register Foundation.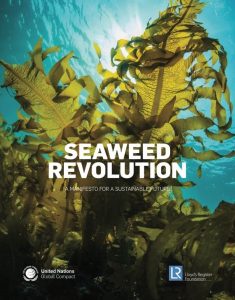 Image credit: UNGC