Official Dialogue Feedback to the United Nations 2021 Food Systems Summit
Last updated:
Download PDF
Type of Dialogue
Member State
Convened by
Mr Hou Kroeun, Helen Keller International, Event Convenor
Language of Dialogue Event
Khmer and English
Geographical focus
Cambodia
Format
Online
Please review the details below for registration information if available or contact the Convenor if you would like to attend.
Curator
Ms Chhun Bormey, Helen Keller International
Description
A youth viewpoint for the vision, roadmap and tools for achieving sustainable food systems in Cambodia.
Acknowledgement
Helen Keller International and Youth Nutrition Champions.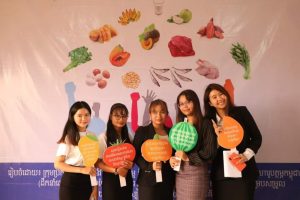 Image credit: Courtesy of Helen Keller International