Official Dialogue Feedback to the United Nations 2021 Food Systems Summit
Last updated:
Download PDF
Type of Dialogue
Independent
Convened by
Dr Inga Jacobs-Mata (IWMI); Mr Steve Collins (USAID-RWP); Dr Nadia Sitas (CST, Stellenbosch University); Dr Maike Hamann (CST/GRP); Dr Odirilwe Selomane (CST/PECS); Ms Shamiso Kumburai (GWP-SA); Dr Sherwin Gabriel (IFPRI)
Language of Dialogue Event
English
City
Pretoria, South Africa
Geographical focus
South Africa, Zambia, Zimbabwe
Format
Online
Please review the details below for registration information if available or contact the Convenor if you would like to attend.
Curator
Dr Inga Jacobs-Mata (International Water Management Institute) and Dr Maike Hamann (Global Resilience Partnership/Centre for Complex Systems in Transition, Stellenbosch University)
Description
Join us for an Independent Dialogue convened by the International Water Management Institute (IWMI) and partners to discuss water-energy-food (WEF) nexus approaches to achieve food systems transformation in Southern Africa, in a regional multi-stakeholder forum, the output of which will be presented to the United Nations Food System Summit (UNFSS). Transforming #foodsystems is among the most powerful ways to make progress towards all 17 #SDGS. This dialogue will unpack how food systems can be localized and transformed in a water-constrained region such as Southern Africa in a manner that acknowledges WEF nexus linkages and promotes regional trade.
The session is designed to be interactive, allowing for small group discussion, collective brainstorming, and agenda-setting. As the region maps out the road to UNFSS 2021, this Dialogue will focus on the role of water and energy in food systems transformation. Speakers and panellists from across the world and the region will discuss how systems transformation for food and water security in Southern Africa can be achieved.
We invite everyone working to advance transformative water, energy and food systems to join this Dialogue.
Acknowledgement
IWMI (Dr Mohsin Hafeez; Dr Stefan Uhlenbrook); IFPRI (Dr Claudia Ringler; Sherwin Gabriel); USAID-RWP (Steve Collins); CST (Nadia Sitas; Dr Maike Hamann; Dr Odirilwe Selomane); GWP-SA (Shamiso Kumbirai).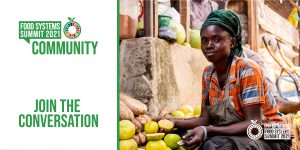 Image credit: UNFSS 2021