Official Dialogue Feedback to the United Nations 2021 Food Systems Summit
Last updated:
Download PDF
Type of Dialogue
Independent
Convened by
IICA - Instituto Interamericano de Cooperación para la Agricultura // Inter-American Institute for Cooperation on Agriculture
Language of Dialogue Event
Spanish
City
San José Province, San José, Costa Rica
Geographical focus
No borders
Format
Online
Please review the details below for registration information if available or contact the Convenor if you would like to attend.
Curator
Dirección de Cooperación Técnica // Directorate of Technical Cooperation
Description
La digitalización de la agricultura puede hacer un aporte fundamental a la transformación de los sistemas alimentarios. La introducción de tecnologías digitales a la agricultura ofrece múltiples beneficios necesarios para avanzar hacia sistemas alimentarios sostenibles, entre los más importantes: aumentar la producción, disminuir impactos en la salud y el ambiente, reducir asimetrías de información y oportunidades entre productores, mejorar las condiciones de trabajo y de vida rural.
Si bien la digitalización de la agricultura puede traer grandes beneficios también supone algunas amenazas. Las limitaciones que pueden encontrar distintos agricultores para el acceso y uso pleno de tecnologías digitales pueden acrecentar desigualdades y generar exclusión. A su vez, las tecnologías digitales disparan cambios en roles de actores, modos de relacionamiento y esquemas de organización que, tal como se observa en otras industrias, pueden generar conflictos. La inadecuada gobernanza de datos también puede constituir una amenaza.
A pesar de la creciente disponibilidad de tecnologías digitales y sus beneficios potenciales, el nivel actual de digitalización de la agricultura es bajo. Los motivos de la lenta digitalización son múltiples y se expresan de modo diferente en distintas situaciones. Entre los motivos más frecuentes aparecen las deficiencias de infraestructura cibernética, las limitaciones para acceder a las tecnologías, las destrezas y capacidades insuficientes de los actores y la ausencia de incentivos.
Inexorablemente las tecnologías digitales se irán incorporando en distintos puntos de los sistemas alimentarios, forjando su transformación digital. Dada la inminencia de la transformación, es esencial impulsarla proactivamente para que ocurra de manera dinámica e inclusiva, arribando a un balance positivo. Este diálogo apunta a discutir las implicaciones de la digitalización de la agricultura como base para la transformación de los sistemasios y proponer iniciativas para impulsar proactivamente la misma.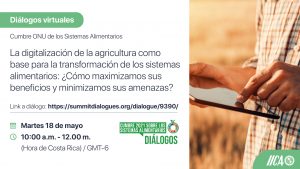 Image credit: IICA