Type of Dialogue
Independent
Convened by
Comité Consultivo de la Integración Económica -CCIE- Centroamerica
City
Euro Plaza Business Center, 5 Avenida 5-55, Cdad. de Guatemala, Guatemala
Geographical focus
Guatemala
Format
Online
Please review the details below for registration information if available or contact the Convenor if you would like to attend.
Description
CCIE con el apoyo del Instituto Interamericano de Cooperación para la Agricultura, -IICA- y la Federación Panamericana de Lechería, -FEPALE-, con el objeto de visibilizar el proceso de la Cumbre, así como intercambiar información sobre las acciones que las diferentes instituciones, llevaremos a cabo el diálogo sobre "Alimentos Seguros y Nutritivos para Todos bajo la Cumbre de los Sistemas Alimentarios 2021.
Con el objeto de impulsar una participación efectiva y oportuna de la región centroamericana en el proceso de preparación de la Cumbre sobre Sistemas Alimentarios , prevista a realizarse en septiembre de 2021,
Abordaremos el eje de acción No. 1 sobre Alimentos Seguros y Nutritivos para Todos , desarrollaremos insumos para la búsqueda de soluciones innovadoras para acelerar la reducción del hambre, hacer que los alimentos nutritivos estén más disponibles  y hacer que los sistemas alimentarios sean más seguros.
Acknowledgement
IICA, FEPALE.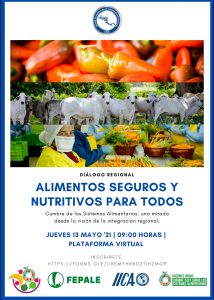 Image credit: Cámara del Agro de Guatemala