Official Dialogue Feedback to the United Nations 2021 Food Systems Summit
Last updated:
Download PDF
Type of Dialogue
Independent
Convened by
Oliver Fredriksson - Editor at FoodUnfolded, EIT Food
Language of Dialogue Event
English
Geographical focus
No borders
Format
Online
Please review the details below for registration information if available or contact the Convenor if you would like to attend.
Curator
Oliver Fredriksson - Editor at FoodUnfolded, EIT Food
Description
Approximately 3 billion people around the world still rely on seafood as a key source of daily protein and nutrition. Wild catch fisheries have stagnated to remain within economically and biologically sustainable limits. To fill the void between growing seafood demand and plateaued wild supply, aquaculture has expanded and is now the fastest growing food sector worldwide – accounting for more than 50% of all seafood we consume.
---
The Question:
Can farmed seafood (aquaculture) offer a resilient, globally inclusive and sustainable option to address growing nutritional demands and limited wild supplies?
The Future:
Production efficiency and technological advancements make various forms of aquaculture a sustainable, viable and reliable means to address food and job security issues for inland and coastal regions globally.
The Challenge:
Current aquaculture practices have drawn scepticism over the environmental and ethical impacts of the industry. Do scientific findings, personal stories and industry insights support or mitigate these concerns? What are the advantages and limitations of upscaled aquaculture production? Is it possible for aquaculture to sustainably meet the growing demand for seafood without costs outweighing the benefits? 
In this dialogue we're looking to discuss and explore:
Can the pace of research and innovation for sustainable production practices match the growing demand for production?
What will we feed the seafood we grow? Is the future in land, or ocean-based feed?
How do we overcome ethical concerns surrounding fish welfare in upscaled or intensified production?
How can we ensure that the benefits of aquaculture are equally shared between both higher and lower socio-economic regions?
Can aquaculture overcome issues of inequity in supply chain distributions that currently affect global food insecurities?
How will aquaculture impact cultures and industries that rely on wild-caught seafood? Will the oceans play any role in the future of seafood production?
Who's role is it to drive change and positive development in the industry – consumer, industry, or government?
How can we align policy to support sustainable developments in practice?
The questions will be addressed in four key areas:
1.    The future of feed production
2.    The role of research, innovation and technology
3.    Ethical considerations and animal welfare
4.    Aligning policy with social and environmental solutions
---
Your View:
This dialogue is about hearing your personal perspective through an open discussion. All voices are equally valued, and all will be given the opportunity to be heard.
We welcome all perspectives. Please get in touch if you would like to join this dialogue.
Acknowledgement
This Dialogue is hosted by FoodUnfolded, whose mission is to reconnect people to the origins of our food. FoodUnfolded is a platform funded by the European Institute of Innovation and Technology (EIT) Food.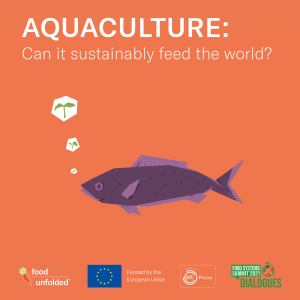 Image credit: Sachi Mulkey