Official Dialogue Feedback to the United Nations 2021 Food Systems Summit
Last updated:
Download PDF
Type of Dialogue
Member State
Convened by
Héctor Romero, Viceministro de Desarrollo Rural del Ministerio de Agricultura y Ganadería del Ecuador
Language of Dialogue Event
Español
Geographical focus
Ecuador
Format
Online
Please review the details below for registration information if available or contact the Convenor if you would like to attend.
Curator
Josué López, Director de Cooperación y Relaciones Internacionales del Ministerio de Agricultura y Ganadería del Ecuador
Description
El Gobierno del Ecuador con el apoyo de la Organización de las Naciones Unidas, le da la bienvenida a participar en el primer Diálogo Nacional de Ecuador camino a la Cumbre de Sistemas Alimentarios.
La Cumbre busca generar nuevas acciones, soluciones innovadoras y estrategias para transformar nuestros sistemas alimentarios y aprovechar estos cambios para lograr avances en la Agenda 2030.
En el contexto de los preparativos de la Cumbre, a través de los Diálogos Nacionales se invita a una amplia diversidad de actores a identificar las vías más poderosas para lograr que los sistemas alimentarios sean más sostenibles y equitativos.
El objetivo de este primer Diálogo Nacional es construir la visión al 2030 del Sistema Alimentario Sostenible del Ecuador en consonancia con los Objetivos de Desarrollo Sostenible.
Para ello, se conformarán ocho grupos de análisis y construcción colectiva enmarcados en las 5 vías de acción y palancas de cambio propuestas para la Cumbre: 1) acceso a alimentos, 2) consumo sostenible, 3) producción favorable a la naturaleza, 4) medios de vida equitativos, 5) resiliencia, 6) innovación, 7) finanzas y 8) género. A partir de este espacio, se busca también identificar elementos a profundizar en el siguiente diálogo nacional.
Agradecemos su registro de participación y elección del grupo de trabajo, en el siguiente enlace, a través del cual, recibirá los datos de conexión.
https://fao.zoom.us/meeting/register/tJEqdeqorDkpGNQLkjn1wX8pQcYpegTaqjIl
Acknowledgement
Ministerio de Relaciones Exteriores y Movilidad Humana del Ecuador, Ministerio de Agricultura y Ganadería del Ecuador, Oficina de la Coordinadora Residente de Naciones Unidas en Ecuador, FAO Ecuador, PMA Ecuador y FIDA.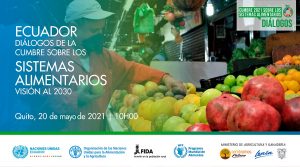 Image credit: FAO/ Max Valencia