Official Dialogue Feedback to the United Nations 2021 Food Systems Summit
Last updated:
Download PDF
Type of Dialogue
Member State
Convened by
His Excellency Sok Silo, Secretary General, Council for Agricultural and Rural Development
Language of Dialogue Event
Khmer and English (simultaneous translation)
Geographical focus
Cambodia
Format
Online
Please review the details below for registration information if available or contact the Convenor if you would like to attend.
Curator
His Excellency Say Ung, Advisor and Director of the Department of Food Security and Nutrition, CARD
Description
This online dialogue event will be presented as a series of brief presentations followed by a panel discussion featuring representatives of Government and development partners active in the fisheries sector.  The dialogue will span the range of topics of interest including aquaculture, capture fisheries, inland and marine fisheries from inputs through to harvest, landing, transport, processing and marketing.  The dialogue will also take account of consumer demand, gender, labour and enterprise issues in fisheries and the growing concerns for environmental sustainability.
Acknowledgement
Fisheries Administration of the MAFF, CARD, AFD, EU, UNIDO, FAO, GIZ and WorldFish.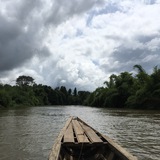 Image credit: @FAO