Type of Dialogue
Independent
Convened by
Saba Loftus (APC Microbiome Ireland), Professor Paul O'Toole (University College Cork), Dr. Sally Cudmore (University College Cork), and Professor Paul Cotter (Teagasc -- Irish Food and Development Authority)
Language of Dialogue Event
English
Geographical focus
Algeria, Austria, Botswana, China, Democratic Republic of the Congo, Egypt, European Union, France, Gambia (Republic of The), Ghana, Ireland, Kenya, Malawi, Nigeria, South Africa, Sudan, Uganda, United Republic of Tanzania, Zambia
Format
Online
Please review the details below for registration information if available or contact the Convenor if you would like to attend.
Curator
Saba Loftus and Dr. Aimee Stapleton (APC Microbiome Ireland)
Description
As part of the Africa-Europe Science and Innovation Summit, APC Microbiome Ireland are convening a UN Food Systems Dialogue discussing the interface of food and health. Attention has grown in recent years to the role of microbiome and biotechnology research in achieving societal challenges, specifically the SDGs. The microbiomes are the predominant form of life on the planet, in both numbers and total biomass. They can be found in and on the human body, on land and sea – even within the most hostile environments incompatible with most forms of life. It is increasingly apparent that microbes provide ecosystems services that are crucial to local and global sustainability.
Societies worldwide face unprecedented challenges that threaten the future of human life as well as the planet's ecosystems. The 'Global Challenges' include biodiversity loss, environmental degradation, climate change, energy demands, population growth. Attempts to address these issues have been ongoing for more than three decades now, with progress limited to particular areas and uneven throughout both developed and developing countries. This event will convene scientists, business leaders and policy makers from Africa and Europe to discuss taking science solutions from the lab (or research level) to the end users (such as consumers, regulators and food producers).
Microbiomes from land and sea can breakdown pollutants, support the activity of pathogenic microbes and produce oxygen. Their ubiquity throughout the biosphere and the diversity of their activities make microbes pivotal agents and stewards of planetary health and sustainability.
It is widely recognized that science and technology are key to work towards the Sustainable Development Goals (SDGs). In fact, scientific research, with its resulting knowledge and applications, helps to understand problems as well as identify solutions. However, despite the efforts of UN agencies to bring the SDGs to the top of the international agenda, researchers generally have poor knowledge of the Global Challenges and of the principles and targets behind the SDGs. Simultaneously, scientists are leveraging the microbiome to tackling pressing challenges such as AMR, Non-Communicable Diseases (NCDs), infectious diseases and optimising food systems. Additionally, scaling up solutions from the lab to consumers / food producers will take connected thinking.
Despite the SDGs increasing awareness of sustainability, there remains a significant a gap between science and policy. If a larger number of scientists had more in-depth awareness and understanding of the Global Challenges, they would be more likely to be able to exert greater influence on decision making. This includes by advising high level committee and government bodies, which is very much needed as decisions are too often dominated by political and economic considerations.
The science-policy gap is compromising progress and action on the SDGs and towards solutions that are in line with a vision of the human future within planetary boundaries. Science diplomacy is a growing field that aims at bringing together stakeholders from diverse backgrounds who are involved in cross-cutting issues. Scientists and policy makers speak different languages and use different tools, their vision of the world is dominated by distinct and sometimes contrasting perspectives. By using science diplomacy and bringing scientists and policy makers to the same table it is hoped that both the natural capital and the services provided by nature are understood and valued. Research on pathogenic organisms is relevant to health, while research in biotechnology-related areas will provide input for innovation.  Knowledge of specific SDG targets would enable researchers to draw appropriate connections and describe their research in the context of the SDGs.
Multi-stakeholder dialogue is vital for food system transformation. Unless an authentic and rational conversation on the Global Challenges takes place involving the scientific community, we will continue along the "business-as-usual" path instead of working for the sustainable development path: we must use knowledge to lead the way against complacency and apathy.
Acknowledgement
Thulani Peter Makhalanyane (University of Pretoria), Declan Kirrane (AERAP), Teagasc -- Irish Food and Development Authority, University College Cork.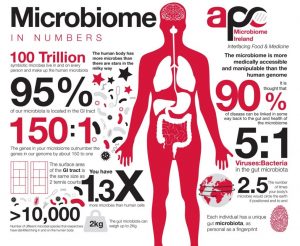 Image credit: APC Microbiome