Type of Dialogue
Member State
Convened by
Harmel Cazeau, Coordonnateur National pour Haiti
Language of Dialogue Event
Francais/Creole Haitien
Format
In-person
Please review the details below for registration information if available or contact the Convenor if you would like to attend.
Curator
Animateurs : Carl Mondé/ Grand'Anse; Julene Moise/ Nord, Nord-Est; Michel Chancy/ Sud'Est
Description
La chaine de valeurs agroalimentaires, l'Environnement, la Nutrition et la protection sociale dans le cadre de l'atteinte des ODD a l'horizon 2030.
Questions
Comment s'assurer des engagements des acteurs impliqués dans le processus en vue de la prise d'actions destinées à transformer de manière durable les systèmes alimentaires ?
Comment adresser  la problématique de genre dans la transformation des systèmes alimentaires ?
Quelles politiques  financières pour soutenir la transformation  des systèmes alimentaires ?
Comment élaborer une vraie politique de valorisation des déchets ?
Comment rendre accessibles les aliments produits aux groupes les plus vulnérables ?
Quelles politiques de protection sociales pour les travailleurs dans la chaine d'approvisionnement alimentaire ?
Comment protéger les groupes les plus vulnérables contre les effets des changements climatiques ?
Ateliers dans les régions et rencontre d'echanges avec les secteurs cles et les experts dans différents domaines
Acknowledgement
Abnel Desamours, Carl Mondé, Guirlaine Raymond, Julene Moise, Michel Chancy, Philippe Mathieu, Albert Pierre Paul Joseph, Nathalie Lamaute Brisson, Jude Dimanche, Cassandre Destin, Wyphada Jean, Herve Fanor Junior, Jenny-Flore Papillon, Marc Eddy Allen, Alain Pamphile, Union Europenne, FAO, PAM, UNICEL, Ambassade de Suisse, Nations Unies, Gouvernement d'Haiti,.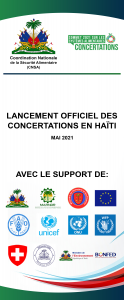 Image credit: Auguste Lheriston/ Ministere de l'Agriculture