Official Dialogue Feedback to the United Nations 2021 Food Systems Summit
Last updated:
Download PDF
Type of Dialogue
Independent
Convened by
Yurdi Yasmi, Regional Representative for Southeast Asia, IRRI
Language of Dialogue Event
English
City
1836 Pili Drive, Los Baños, Laguna, Philippines
Geographical focus
Brunei Darussalam, Cambodia, Indonesia, Lao People's Democratic Republic, Malaysia, Myanmar, Philippines, Singapore, Thailand, Timor-Leste
Format
Online
Please review the details below for registration information if available or contact the Convenor if you would like to attend.
Description
COVID-19 has exposed vulnerabilities in the agri-food system, which further threatens the nutrition and food security of already vulnerable groups. Building resilience is key and this entails exploring innovative solutions and collaboration among all stakeholders.
Research will be crucial in informing policy decisions and future directions for food systems transformation, and the agricultural sector joins the movement to reformulate a shared vision of future food systems, anchored on socio-economic and health inclusiveness to ensure that no one is left behind.
This Independent Food Systems Dialogue aims to bring together a range of stakeholders across the food system — from producers to value chain actors, consumers and policymakers — to respond to the challenge of nourishing Southeast Asia in a post-COVID 19 context. Specifically, the dialogue aims to address these three questions:
What areas of food and nutrition security need to be addressed and who are the stakeholders that need to be involved in the research, development, investment, and deployment process? What are the barriers to innovation uptake?
How can policymakers efficiently access research that can help inform the development of data-driven and evidence-based policies? What mechanisms should be in place to monitor, evaluate, and feedback results?
What investment support is needed to strengthen food systems transformation? How can we make access to resources more equitable to vulnerable and underserved sectors?
The Dialogue consists of two parts: an agenda-setting online public forum that serves as a conversation starter and ceremonial call to action, and a smaller private breakout session where key stakeholders can further discuss these ideas in depth. You may register through bit.ly/UNFSSdialogue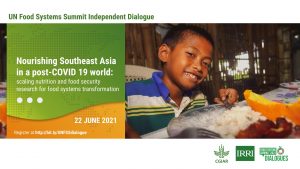 Image credit: Part of the image collection of the International Rice Research Institute (IRRI)