Official Dialogue Feedback to the United Nations 2021 Food Systems Summit
Last updated:
Download PDF
Type of Dialogue
Independent
Convened by
Good Food Fund (CBCGDF), Slow Food Great China, +86 China Food Design Association, ImPacked Travel, UNFSS-AT2 China Action Hub
Language of Dialogue Event
EN/CN interpretation
Format
Online
Please review the details below for registration information if available or contact the Convenor if you would like to attend.
Curator
Cindy(Luyue) ZHENG, Project Officer of the Good Food Fund (CBCGDF)
Description
Background
WET Market Transformation
Wet market is the main food source for urban communities in China. With the economic growth, wet markets are experiencing pressure to modernize because of the aging infrastructure, management model, and business model. Last year, the COVID-19 crisis also triggered an intense discussion about the biosecurity of wet markets. However, wet markets have a huge potential in food system transformation. As economic food sources, wet markets could provide vulnerable groups affordable and nutritious food. The rich interaction between buyers and sellers in the wet markets creates a unique opportunity to facilitate the transition in diets towards more nutritious foods that require fewer resources to produce and transport. As the wet markets are the main livelihood resource for local smallholder farmers, they are also critical to promoting food diversity and local environmental-friendly farming practices, and advance equitable livelihoods.
The Handbook Visions for a WET Market Revolution, co-initiated by the Good Food Fund (CBCGDF) and Slow Food Great China, provides guidelines and best practice examples for redefining and redesigning wet markets into WET Markets, where WET stands for Well-being, Ecology and Transformation.
The WET Market solution submitted to the Summit is now being taken forward in the solution development process.
Expected Outcomes
Raise awareness among stakeholders on the role of wet markets in food system transformation.

Engage different stakeholders to share experience, knowledge, lessons learned and best practices, contribute to the Summit's development process of game-changing propositions.

Explore opportunities and identify actions for cooperation between different stakeholders, mobilize resources, commitments and partnerships. Identify partners in the delivery of the Policy Boot Camp co-organized by Resilience and Sustainable Development Programme at the University of Cambridge and EAT.
Acknowledgement
Shenggen Fan, Yi Jian, Hu Li, Wei Liu, Qun Sun, Anne Palmer, Betty Kibaara, Janet Ngombalu, Joel Tomas, John Taylor, Paul Newnham, Peggy Chan, Peggy Neu, Richard McCarthy, Zen Makuch, Nazia Mintz Habib, Huiyu Ouyang, Yu Liu; Good Food Fund, Slow Food.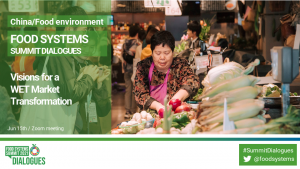 Image credit: Good Food Fund