Official Dialogue Feedback to the United Nations 2021 Food Systems Summit
Last updated:
Download PDF
Type of Dialogue
Independent
Convened by
Coalición ContraPESO; ETHOS Laboratorio de Políticas Públicas; The Hunger Project México
Language of Dialogue Event
Español
City
Mexico City, CDMX, Mexico
Format
Online
Please review the details below for registration information if available or contact the Convenor if you would like to attend.
Description
Los esfuerzos por remodelar los sistemas alimentarios para que sean más resilientes, productivos e inclusivos son vitales para resistir las amenazas a la seguridad alimentaria y alcanzar los Objetivos de Desarrollo Sostenible. Un enfoque holístico para abordar los desafíos modernos de la inseguridad alimentaria y el nexo entre el clima y los conflictos debería incorporar enfoques basados en la comunidad, apoyo a los medios de vida y programas de protección social que construyan relaciones y promuevan la cohesión social, todas ellas características de los sistemas alimentarios basados en las comunidades.
Vemos necesario el re-imaginar los sistemas alimentarios locales, y cómo esto es base para alcanzar el derecho a la alimentación y la resiliencia en la consolidación de medios de vida equitativos.
Link de registro, vía Zoom.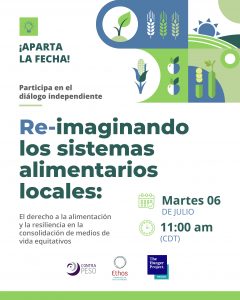 Image credit: ContraPESO