Official Dialogue Feedback to the United Nations 2021 Food Systems Summit
Last updated:
Download PDF
Type of Dialogue
Independent
Convened by
Cátedra de la Agricultura Campesina y de la Alimentación, Universidad de Chile
Language of Dialogue Event
Español
Format
Online
Please review the details below for registration information if available or contact the Convenor if you would like to attend.
Description
Es un imperativo ético que la población pueda acceder física y económicamente a suficientes alimentos saludables, nutritivos, culturalmente pertinentes y que sean producidos en forma sostenible. Hoy en Chile, el consumo de alimentos ultraprocesados (con exceso de aditivos e ingredientes artificiales) es un problema de salud pública con consecuencias graves en el estado nutricional, y por ende en el riesgo de enfermedades crónicas no transmisibles y en la gravedad y muerte por COVID-19.
La recomendación de diversos organismos internacionales y científicos, así como de las Guías Alimentarias Nacionales, es que se consuman al menos 5 porciones diarias de frutas y hortalizas frescas y 2-3 porciones de pescado y legumbres a la semana. Recomendaciones que no se cumplen, según la Encuesta Nacional de Consumo Alimentario 95% de la población requiere cambios en su dieta.
Sabemos que la agricultura campesina es la principal productora de alimentos frescos y que la pesca artesanal aporta en buena medida el consumo de productos frescos provenientes del mar. En ambos casos las ferias libres son los principales mercados donde la población accede a estos alimentos. Entonces, estos actores, en la pequeña agricultura, en pequeños recolectores, pesca artesanal, y en general la producción a baja escala, son quienes aportan a una dieta nutritiva y saludable de la población. También estos actores tienen el potencial de producir de manera sostenible y biodiversa.
En este contexto cómo Cátedra de la Agricultura Campesina y de la Alimentación de la Universidad de Chile convocamos a este diálogo independiente para aportar a la Cumbre de Sistemas Alimentarios que convoca la ONU. El objetivo es conversar y reflexionar sobre cómo mejorar el acceso físico y económico de toda la población a alimentos saludables; cómo superar las barreras de acceso; y cómo acortar los circuitos de comercialización acercando la producción al consumidor. No se trata sólo de identificar los problemas, es también una invitación a realizar propuestas de acción nacional o local que permitan la meta de acceso universal. 
Esperamos que este diálogo motive la reflexión y la acción por la transformación del sistema alimentario a uno más equitativo, sostenible, saludable, inclusivo y digno ¿Qué hay que hacer para alcanzar esta meta? Conversemos…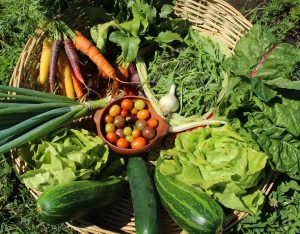 Image credit: Granja Familiar Coséchame, Región del Biobío https://www.instagram.com/cosechame/