Official Dialogue Feedback to the United Nations 2021 Food Systems Summit
Last updated:
Download PDF
Type of Dialogue
Independent
Convened by
COORDINADORA ANDINA DE ORGANIZACIONES INDIGENAS - CAOI, Benito CALIXTO GUZMAN - COORDINADOR GENERAL
Language of Dialogue Event
ESPAÑOL
Format
Online
Please review the details below for registration information if available or contact the Convenor if you would like to attend.
Curator
BENITO CALIXTO GUZMAN
Description
El presente taller regional se organizó con el objetivo de fortalecer la incidencia de los Pueblos Indígenas de América Latina frente a la Cumbre de Sistemas Alimentarios del FIDA, y presentar las conclusiones y recomendaciones de esta región de Abya Yala, para asegurar el derecho a la alimentación y sistemas alimentarios indígenas con mujeres, jóvenes, comunidades, organizaciones de productores individuales y asociaciones, cooperativas y asociaciones de pescadores.
Acknowledgement
Personas: Myrna Cunningham, Jesús Amadeo Martinez, Rodrigo de la Cruz, Organizaciones: FORO INDIGENA DE ABYA YALA-FIAY, ECUARUNARI (ECUADOR), CIAP (PERU), CONAMAQ (BOLIVIA) y ONIC (COLOMBIA).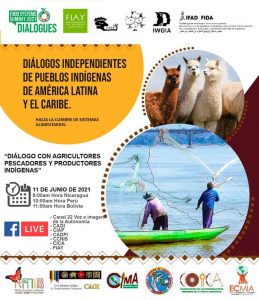 Image credit: FIAY