Official Dialogue Feedback to the United Nations 2021 Food Systems Summit
Last updated:
Download PDF
Type of Dialogue
Member State
Convened by
Renato Alvarado Rivera, Ministro de Agricultura y Ganadería
Language of Dialogue Event
Español
City
Av. 12, San José, Costa Rica
Geographical focus
Costa Rica
Format
Online
Please review the details below for registration information if available or contact the Convenor if you would like to attend.
Curator
Roberto Azofeifa Rodríguez, Ministerio de Agricultura y Ganadería
Description
Identificar propuestas de acción en los próximos años para la transformación hacia la sostenibilidad de los sistemas alimentarios optimizando el uso de los recursos ambientales en la producción, el procesamiento y la distribución de alimentos, y reducir así la pérdida de biodiversidad, la contaminación, el uso del agua, la degradación del suelo y las emisiones de gases de efecto invernadero.
Acknowledgement
TEC, Ministerio de Salud, Representación de FAO en Costa Rica, Ministerio de Relaciones Exteriores, Ministerio de Ambiente, WWF.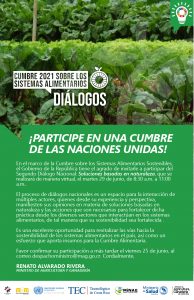 Image credit: Ministerio de Agricultura y Ganadería