Official Dialogue Feedback to the United Nations 2021 Food Systems Summit
Last updated:
Download PDF
Type of Dialogue
Member State
Convened by
Sr. Renato Alvarado Ribera, Ministro de Agricultura y Ganadería
Language of Dialogue Event
Español
City
Av. 12, San José, Costa Rica
Geographical focus
Costa Rica
Format
Online
Please review the details below for registration information if available or contact the Convenor if you would like to attend.
Curator
Roberto Azofeifa Rodr'iguez
Description
Trabajo en grupos.
Mesa de trabajo A sobre entornos alimentarios.
Mesa de trabao B sobre prácticas alimentarias.
Distribuyendo el tiempo en forma balanceada, cada subgrupo se referirá a las preguntas generadoras:
En dos palabras, ¿Cómo percibe usted las dietas saludables en el país?
¿Qué se necesita para poder lograr entornos alimentarios/prácticas alimentarias más saludables sin sacrificar la sostenibilidad de los sistemas alimentarios?
Desde su sector, ¿cómo usted o su organización pueden apoyar la transformación de los sistemas alimentarios para que sean más sensibles a la nutrición?
Acknowledgement
Miembros del grupo de trabajo en representación de Ministerio de Ambiente y Energía; Ministerio de Salud; Ministerio de Relaciones Exteriores, Instituto Tecnológico de Costa Rica (TEC); oficina de Representación de FAO-CR; y colegas de Ministerio de Agricultura y Ganadería.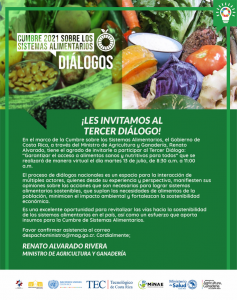 Image credit: Ministerio de Agricultura y Ganadería