Official Dialogue Feedback to the United Nations 2021 Food Systems Summit
Last updated:
Download PDF
Type of Dialogue
Independent
Convened by
Fundación Brotes
Language of Dialogue Event
Español castellano
Format
Online
Please review the details below for registration information if available or contact the Convenor if you would like to attend.
Curator
Luz Marina Trujillo
Description
Para la actividad "Diálogos para la construcción de sistemas alimentarios: Desde lo Local y Participativo" se espera orientar la discusión a identificar cuáles son los principales desafíos frente a la construcción de sistemas alimentarios sostenibles desde las comunidades, esto es, desde el entorno local y con pertinencia con los territorios y el medio en el que habitan. En ese sentido, resulta significativamente relevante dar cuenta de las distintas potencialidades que existen en los barrios y comunidades, y cómo estos pueden llegar a levantar iniciativas en este ámbito que tengan un alto impacto territorial y que puedan ser replicadas a distintas escalas.
Es por esto que se expondrá la iniciativa local en curso de Villa Amapolas, barrio situado en la comuna de Ñuñoa, perteneciente a la Región Metropolitana de Santiago de Chile, cuyo proyecto de recuperación de residuos de las ferias y la entrega de apoyo en alimentos recuperados a vecinas y vecinos vulnerados en términos socioeconómicos, dan cuenta de una experiencia en que las comunidades se sitúan como un actor central a la hora de la generación de cambios que apunten a sistemas alimentarios sostenibles.
Acknowledgement
United Nations Food Systems Summit 2021 & Meridional Radio 100.9 fm.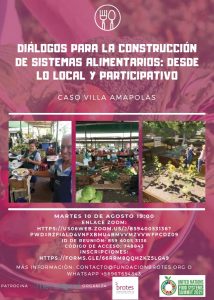 Image credit: Fundación Brotes