Official Dialogue Feedback to the United Nations 2021 Food Systems Summit
Last updated:
Download PDF
Type of Dialogue
Independent
Convened by
Monash University Department of Nutrition Dietetics and Food on behalf of the HEALTHY STORiES = GOOD FOOD working group
Language of Dialogue Event
English
City
Melbourne VIC, Australia
Geographical focus
Australia
Format
Online
Please review the details below for registration information if available or contact the Convenor if you would like to attend.
Curator
Nicole Turner, Chair Indigenous Allied Health Australia
Description
This dialogue will feature 'good food store' stories from around remote Australia highlighting innovative and emerging approaches to challenges experienced by community stores in providing a healthy and affordable food supply and foster critical discussion among Aboriginal and Torres Strait Islander Peoples and community allies on the role of stores for community food security.
It will feature stories from:
Thursday Island, Northern Queensland on the provision of quality and affordable fruit and vegetables
Laynthapuy Homelands, Northern Territory on an essential services health model to support small stores in homeland communities, Laynhapuy Homelands Aboriginal Corporation.
Acknowledgement
Leisa McCarthy PhD Central Australia Academic Health Science Network, Apunipima Cape York Health Council, Laynhapuy Homelands Aboriginal Corporation, Community Enterprise Queensland.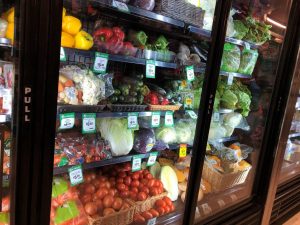 Image credit: Community Enterprises Queensland