Official Dialogue Feedback to the United Nations 2021 Food Systems Summit
Last updated:
Download PDF
Type of Dialogue
Independent
Convened by
Jessica Yu, Luckya Xiao, Shreya Shah, Owen Choy (Students from University of Toronto Schools)
Language of Dialogue Event
English
Format
Online
Please review the details below for registration information if available or contact the Convenor if you would like to attend.
Description
The Food for Thought dialogue will provide youth a platform to share their perspectives on how to improve food systems – whether from our region or globally – and specifically, what actions youth can take to create meaningful change. They will also have the opportunity to hear from stakeholders including Indigenous leaders, researchers, activists and engage in conversations about community-driven solutions with them. Throughout these discussions, participants will increase their awareness of food systems and how they can help increase sustainability and food security.
Acknowledgement
Bee the Change @ UTS.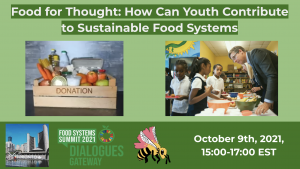 Image credit: Canadian Feed the Children, Toronto Youth Cabinet