Official Dialogue Feedback to the United Nations 2021 Food Systems Summit
Last updated:
Download PDF
Type of Dialogue
Independent
Convened by
DR. SARADA PRASAD MOHAPATRA/ MR. NTIOKAM DIVINE
Language of Dialogue Event
ENGLISH, FRENCH, ODIA, HINDI, SPANISH
City
Bhubaneswar, Odisha, India
Geographical focus
No borders
Format
Online
Please review the details below for registration information if available or contact the Convenor if you would like to attend.
Description
This dialogue is based on the concept of "Good Food4All" of UNFSS. In this a virtual meal will be organized among the participants across the Globe in which all will share healthy food at the same time which will be captured in virtual frame.
Eat Healthy and stay Healthy.
Acknowledgement
GCSAYN(Climate smart Agriculture Youth Network Global).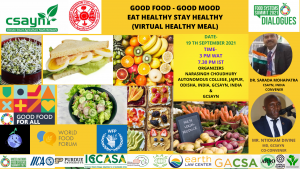 Image credit: DEPARTMENT OF BOTANY, NARASINGH CHOUDHURY AUTONOMOUS COLLEGE, JAJPUR, ODISHA, INDIA