Type of Dialogue
Independent
Convened by
John Aggrey - Founder & CEO, HIRED Consult
Language of Dialogue Event
English
Geographical focus
No borders
Format
Online
Please review the details below for registration information if available or contact the Convenor if you would like to attend.
Curator
Esther Wanza - UNMGCY Regional Youth Focus Point for Africa, in support of UNFSS
Description
Africa is being impacted by widespread malnutrition, child stunting, food insecurity, diet deficiency related health challenges. Transforming our food systems and ensuring safe and nutritious foods for everyone in Africa is crucial. Changing the way we grow, process, preserve, transport, eat, and manage food requires joint effort from the young generation who are the future stewards of our planet. The gains of transforming food systems go a long way in enhancing green growth benefits and opportunities for jobs, income and enhanced livelihoods across the value chains of food.
The objective of this African Food Systems Dialogue is to:
Create an enabling platform for  the Youth in Africa to address the issues of agro-chemicals on our foods.
Engage on Culinary recipes for traditional African food- promoting traditional African food which is healthy and nutritious.
The Africa Regional Facilitators, HIRED Consult and it's collaborators are convening this dialogue and discussion to contribute to Action Track 1 and the overall preparation of the Food Systems Summit and by the end of the virtual talk, Stakeholders ( Activists, Indigenous Communities, Smallholder Farmers, Youth Voices) and Participants will have identified game changing solutions as well as SAFE practices and policies that will deliver zero hunger and improve levels of nutrition, enable all people to be well nourished and healthy, make nutritious foods more available, affordable and make food systems safer.
Interested Participants can join using link JOIN ZOOM
—
#UNFSS #Africa4UNFSS #YouthHeroes4Food
Follow us on TWITTER | FACEBOOK | INSTAGRAM | LINKEDIN | YOUTUBE
Acknowledgement
UN Major Group for Children and Youth, Youth Focus Group for UN Food Systems Summit, UN Food Systems Summit Secretariat, YOUNGO, UNEP MGCY and Great Minds Empire Africa.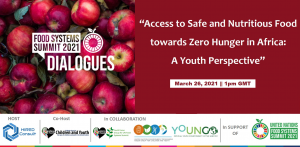 Image credit: UNFSS , John Aggrey