Official Dialogue Feedback to the United Nations 2021 Food Systems Summit
Last updated:
Download PDF
Type of Dialogue
Independent
Convened by
Kristin Davis (IFPRI), Hiroyuki Takeshima (IFPRI), Makoto Kitanaka (Sasakawa Africa Association)
Language of Dialogue Event
English
Geographical focus
No borders
Format
Online
Please review the details below for registration information if available or contact the Convenor if you would like to attend.
Curator
Kristin Davis (IFPRI), Hiroyuki Takeshima (IFPRI)
Description
To feed its growing population amid climate change and other challenges, Africa needs a flourishing food system that is nutrition-sensitive, efficient, safe, healthy, and environmentally sustainable. This requires bringing modern technologies to local communities, helping stakeholders to acquire the relevant technical know-how, and building strong partnerships and institutions. Education, agricultural extension and advisory services continue to play key roles in equipping relevant actors with technologies, knowledge and skills to meet the evolving needs of modern food systems. Identifying appropriate models for delivering such services remains crucial in meeting growing sets of extension and advisory needs with increasingly scarce public resources.
This Independent Dialogue convened in partnership between the International Food Policy Research Institute (IFPRI) and the Sasakawa Africa Association (SAA) of Japan, will discuss how agricultural extension and advisory services can support the Sustainable Development Goals, drawing on lessons from the field and empirical evidence in Africa and elsewhere. Stakeholders will share their expert knowledge, engage in group discussions and brainstorming to come up with recommendations on effective models of modern farmer education, extension and advisory services to enhance sustainability and resilience, promote nutrition-sensitive agriculture, and foster market orientation among Food System actors. Emerging messages from this dialogue will be conveyed to the United Nations Food System Summit (UNFSS) in September 2021.
If you are interested in participating in the dialogue, please register at IFPRI website (https://www.ifpri.org/event/unfss-independent-dialogue-critical-role-agricultural-extension-advancing-2030-agenda-lessons). You can also register directly at https://ifpri.zoom.us/meeting/register/tJAqduuhqDIvG9Jy04hgHtQI7N6nBs0VptWn.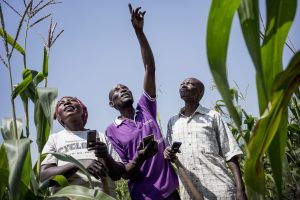 Image credit: Sven Torfinn-Panos