Type of Dialogue
Independent
Convened by
Chulalongkorn University, SEI Asia, Chipko Asia
Language of Dialogue Event
English
Geographical focus
No borders
Format
Online
Please review the details below for registration information if available or contact the Convenor if you would like to attend.
Description
Background: Sustainable food systems often choose to pick one of these directions: either high tech or low tech practices. When compared, which is the best strategy: "going back" to traditional practices or "moving forward" with technological solutions and the so-called "smart farming"? We believe both strategies present advantages and disadvantages and this dialogue aims to critically unpack them in an interactive and engaging way. 
Aim of this event: to have an online space for discussion and brainstorming on how to make our current food system more sustainable. To inspire each other and connect/expand our network of young people and practitioners working in the field of sustainable food systems. To provoke critical thinking by busting myths on low tech and high tech "one size fits all" solutions for a sustainable food system.
Confirmed speakers represent social entrepreneurs, researchers, and practitioners from NGOs working in the field of sustainable food systems: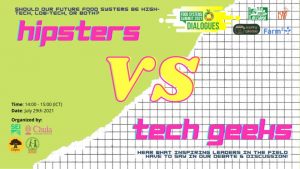 Image credit: Chipko Asia