Official Dialogue Feedback to the United Nations 2021 Food Systems Summit
Last updated:
Download PDF
Type of Dialogue
Independent
Convened by
Mrs Juliet Ejezie, Volunteer Climate Smart Agriculture Youth Network Nigeria, Mr Divine Ntiokam Managing Director CSAYN Global
Language of Dialogue Event
English
Geographical focus
No borders
Format
Online
Please review the details below for registration information if available or contact the Convenor if you would like to attend.
Description
When farmers are given the right farming inputs, their yield gets improved and when the yield is counted into productivity by being collected / off-taken regularly and on time with proper information management system, Farmers become encouraged to learn more effective ways in order to produce more! Many farmers in Africa need a digital platform where their voices can be heard. They suffer losses due to produce boom or glut and are left to tackle the challenges that comes with it on their own. Sometimes, government aids may take too long to come and when it arrives, it becomes irrelevant because farmers who needed such aids have moved on in life even to the point of quitting farming.
Here comes the need to use Information Communication Technology as never before in salvaging the needs of farmers, input distributors, and farm produce off-takers for an effective service delivery towards more farm yields. The use of mobile applications, Social media, Web 2.0 and the ordinary GSM technology are tools already running in most country of Africa. How do we utilize these digital tools as building blocks for a smooth running food system value chain? How do we know that a farmer in 'Town A' is waiting for an off – taker in 'Town Y' who will definitely come despite another being on stand-by? There is no better period than this digital age.
Some of the objective of this dialogue are: To identify challenges farmers encounter in receiving farm inputs, to identify challenges farmers and produce collectors encounter in off-taking farm produces and proffer solutions that will bridge the gaps identified towards giving farmers direct access to verified input distributors and produce collectors / off-takers. Furthermore, to create a road map for digitalizing information dissemination to farmers accessibility to inputs and off-taking.
Acknowledgement
Mr Divine Ntiokam, Managing Director CSAYN Global. Mr Oliver Oliveros, Champions Engagement Lead UNFSS Secretariat Nairobi. Jeorge Werthein, IICA Advisor. IAAS, ARSO, IICA, GACSA.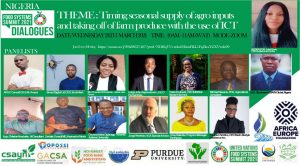 Image credit: CSAYN