Official Dialogue Feedback to the United Nations 2021 Food Systems Summit
Last updated:
Download PDF
Type of Dialogue
Independent
Convened by
Cherrie D. Atilano , Founding Farmer and CEO of AGREA, UN Food Systems Summit Champion
Language of Dialogue Event
English, Filipino
City
Makati City, Metro Manila, Philippines
Geographical focus
Australia, Philippines, United States of America
Format
Online
Please review the details below for registration information if available or contact the Convenor if you would like to attend.
Curator
Cherrie D Atilano, Founding Farmer and CEO of AGREA
Description
GrowHer.org is a microsite that provides women agripreneurs the platform to upskill themselves with useful tools and new skills, read inspiring stories of other women in agriculture making their mark, and to collaborate and attend events across the value chain – creating sustainable food systems for generations to come.
On 31 of March 2021 at 7:00PM- 9:00PM Manila Time, aligned with the celebration of International Women's Month, GrowHer.org will be launched in the Philippines. The launch will be remarkable as it will be the first in-country launch of the platform. The program aims to be an avenue for collaboration among civil society groups, government agencies, and the private sector in supporting the GrowHer microsite through: contributing content, sharing resources, and partnership opportunities for women in agriculture.
The launch will be led by AGREA, Corteva Agriscience, and Grow Asia. It will be supported by the Netherlands Embassy in the Philippines – a major supporter of our agriculture and gender equity initiatives, Department of Agriculture, SPARK Philippines, Philippine Commission on Women, UN Women, FAO Philippines,Philippines Partnership for Sustainable Agriculture (PPSA) and Go Negosyo.
The launch will complement our 2020 program entitled How Women Feed The World: A Digital Talk on Women in Agriculture. The webinar complemented the conclusions of Roundtable on Gender Equity and Empowerment last 2019, and support for Magna Carta of Women in Agriculture. It also presented current opportunities and investment for women in agriculture on the following key areas: education, sustainable livelihood, peace and security, and health and nutrition.
Catch the broadcast at www.facebook.com/AGREAph on 31 March, Wednesday, 7pm.
Should you have any questions or concerns, you may contact Cherrie D. Atilano at +63 917 5500 489, or email her at [email protected] We hope for your positive response to this invitation. Thank you very much!
Acknowledgement
Embassy of the Kingdom of the Netherlands in the Philippines, Department of Agriculture, SPARK! Philippines, AGREA Philippines, Go Negosyo, Planters Products, Corteva Agriscience, Grow Asia, Philippines Partnership for Sustainable Agriculture (PPSA), UN Women, FAO Philippines, Agriculture Credit Policy Council (ACPC), Philippine Commission on Women (PCW).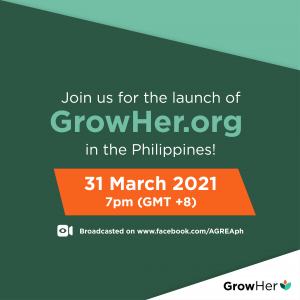 Image credit: Spurwing